Restaurant listings and review firm Zomato, which is expanding its business into food ordering and table reservation, has entered the coveted 'Unicorn Club' as it has just raised $60 million (Rs 390 crore when it sealed the deal) in a fresh round of funding from Singapore government's investment company Temasek and existing investor Vy Capital.
Although it has not disclosed the valuation, back-of-the-envelope calculations show Zomato is now valued around $1 billion. This would make it one of the eight odd Indian unicorns, a tag meant for startups sporting over $1 billion valuation.
Flipkart, Snapdeal, Ola, One97 Communications, InMobi, Quikr and Mu Sigma are the other known Unicorns from India. Though some of these firms were launched years ago, their current core business took shape just around five years back.
For Zomato, this is its third round of funding since last November when it bagged $60 million and followed it up with another $50 million this April. It was valued at $660 million (post money) in November 2014.
"We will use this round to make investments in our new businesses such as online ordering, table reservations, point of sales and our newly launched white-label platform," Deepinder Goyal, founder and CEO of Zomato, which is run by Zomato Media Pvt Ltd, said.
"With this round, and with some of our markets turning profitable recently, Zomato is well capitalised for at least two years. We are also stoked to have Temasek partner with us, and are looking forward to building one of the largest food-tech companies in the world," he added.
Zomato's operating revenue rose over three times from Rs 30.6 crore in FY14 to Rs 96.7 crore last year. Its operating EBITDA loss in the same period also more than tripled to Rs 136 crore from Rs 41.39 crore in the year ended March 31, 2014.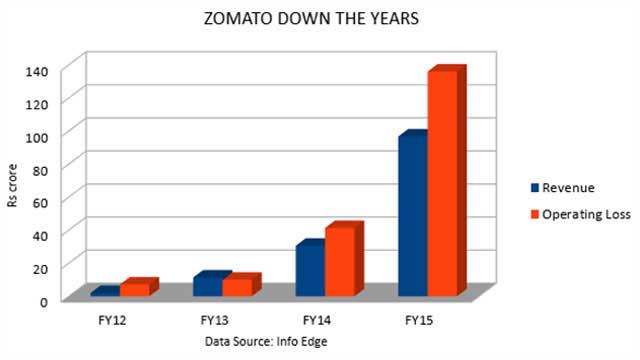 Zomato has raised a total of $225 million in external capital since inception, the statement said. Other than Temasek and Vy Capital, it also counts Info Edge (India) and Sequoia India as investors.
Info Edge, which counts Zomato as a subsidiary even as the latter is run as an independent business, is known primarily for its job search portal Naukri.com besides matrimonial venture Jeevansathi.com and real estate listing venture 99acres.com, among others.
99acres competes with the likes of MagicBricks, CommonFloor, Housing.com and PropTiger. PropTiger is part owned by News Corp which acquired the parent of this news website in March.
Info Edge (India) held 50.1 per cent stake in Zomato which has now shrunk to around 47 per cent, it said in a separate filing. It had led a $50 million funding round at Gurgaon-based Zomato, maintaining its stake in the previous round.
Its stake in Zomato is now valued around $470 million (Rs 3,150 crore). Info Edge itself has market valuation of Rs 8,803 crore.
In a separate announcement on Monday, Zomato said it has launched Whitelabel, a platform that lets restaurants create and manage their own iOS and Android apps. Last week, Zomato said it will enable customers to pay using Paytm mobile wallet for its food ordering service. It also invested in hyperlocal delivery startups Pickingo and Grab while partnering with e-commerce logistics firm Delhivery to enable home delivery of food from restaurants and eateries that don't offer such services otherwise.
Founded in 2008 by IIT Delhi alumni and ex-Bain employees Deepinder Goyal and Pankaj Chaddah, Zomato has been furiously buying companies abroad. It has sealed close to a dozen acquisitions in the last year or so. The firm is present in 22 countries.
Meanwhile, for Temasek, this expands the exposure to India, especially in the internet technology space. It is also an investor in both public listed Indian internet businesses Info Edge (India) and Just Dial besides being an investor in Snapdeal. Last year, it also invested in Manthan Software.