Tesla Motors' much-awaited compact four-door sedan Model 3 that was unveiled in a glitzy ceremony in California on Thursday seems to have created a buzz in India, as Tesla said the car is open for pre-ordering from India too.
The Silicon Valley-based electric vehicle manufacturer priced Model 3, its most affordable model yet, at $35,000 (around Rs 23.22 lakh).
In a tweet prior to the event, Tesla co-founder and CEO Elon Musk said, "Adding several more countries to Model 3 order page tonight. Check for details, but will include India, Brazil, SA, SK, NZ, Singapore and Ireland."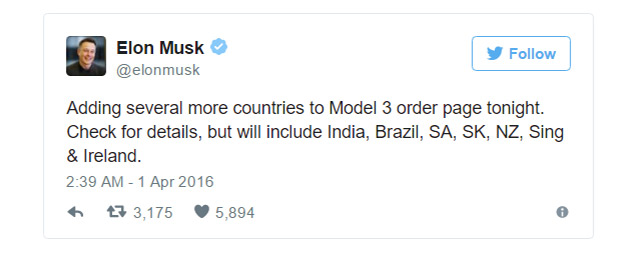 Tesla is taking pre-orders at a reservation cost of $1,000 (around Rs 66,388). "Model 3 is expected to go into production in late 2017, with deliveries taking place first in North America, followed by Europe, APAC and right-hand drive markets," the company stated in a blog.
Vijay Shekhar, founder of online payments firm Paytm, is among the Indians who already made a reservation for the car. "Let's see how long it takes for #TeslaModel3 to reach India. Reservation done for now," he tweeted.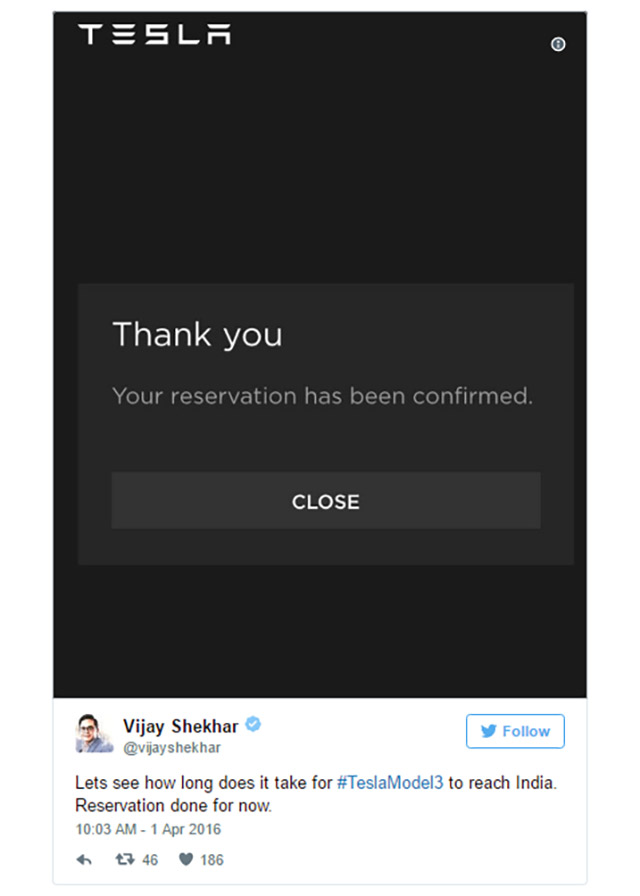 Mahesh Murthy, investor and co-founder of Seedfund, also tweeted that he has already made a pre-order.

This also marks Tesla's entry into the Indian market. High duty on imported vehicles and lack of a separate category for electric vehicles have so far prevented the electric carmaker from entering India.
According to a tariff notification framed by Central Board of Excise and Customs under the Department of Revenue, the import duty of vehicles designed for transport, which includes electrically operated vehicles, is pegged at 125 per cent. However, further clarity on the regulations surrounding the import duty is yet to be emerged.
Model 3 will allow seating for five adults and is designed to go at a range of 215 miles (346 kilometres) per charge. The car also comes with autopilot safety features and long distance super charging facility.
While charging facilities are yet to be made available in countries such as India, Musk while unveiling the car said the company aims to increase super charge points and destination chargers. "We are now at the point where we have built out about 3,600 super chargers worldwide and about the same number of destination chargers. By the end of next year, we will double the number of super charges and quadruple the number of destination charges," he said.
Musk said Tesla expects to double its buying and servicing stores from 215 locations to 441 by the end of next year, across North America, Europe and Asia.
Also, Tesla is likely to set up shops in India. Last year, Musk indicated in a tweet the possibility of the carmaker setting up a Gigafactory in India to make lithium-ion batteries in the long term.
During his visit to the US last year, Prime Minister Narendra Modi met Musk and had a discussion on Tesla's powerwall battery pack that could be a source for off-grid electric power.
The government launched the National Electric Mobility Mission Plan 2020, a Rs 14,000 crore outlay plan, in January 2013 to ensure that by 2020 India's vehicles population includes about 6-7 million electric/hybrid vehicles across the country.
While unveiling Model 3, Musk also warned of climate change. "Why does Tesla exist? Why are we making electric cars? It's because it's very important to accelerate the transition to sustainable transport. We have record high CO2 levels. We recently passed over 403.5 parts per million (ppm) of CO2 in the atmosphere," he said.