A group of six employees at beleaguered fashion e-commerce firm Yepme has approached Gurgaon labour commissioner, complaining of salary delays and forced resignations.
As per the complaint, a copy of which is accessed by VCCircle, the employees have not been paid salaries for the last three months—December, January and February. The company is also asking employees "to leave without any prior notice", they alleged.
"The employees who have left (the company) in past six months are yet to get their full and final settlements," they said.
Many other employees are planning to file similar complaints before the labour commissioner, they said.
After they filed the complaint, Dinesh Malhotra, general manager, finance at Yepme; and Sourabh Goel, senior manager, finance at Yepme attended a meeting convened by assistant labour commissioner of Gurugram, Varun Beniwal, one of the employees told VCCircle.
The company representatives have promised to clear the pending dues of all the six employees, before 15 May, said the employee mentioned above, requesting anonymity.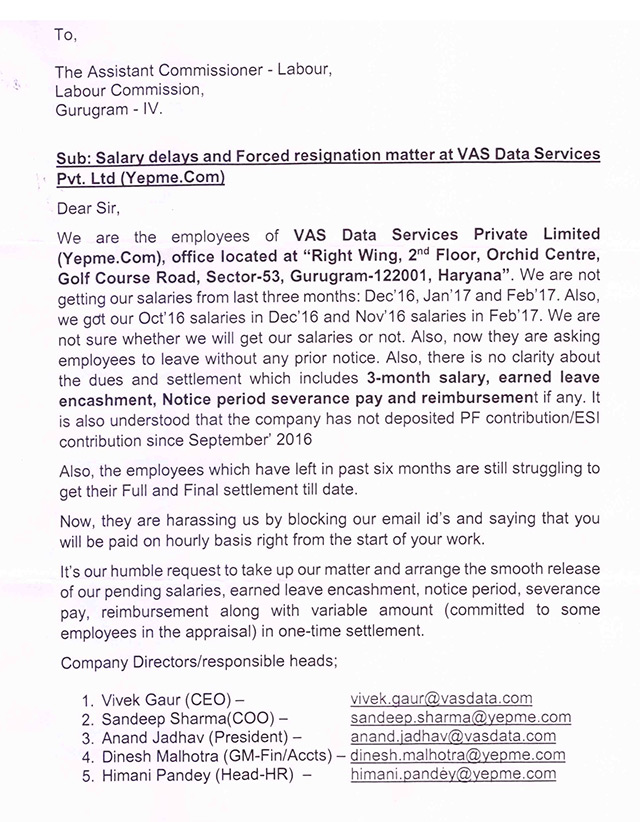 An email query sent to Gaur, seeking comments, did not elicit a response at the time of publishing this report.
Delhi-based VAS Data Services Pvt. Ltd, which runs Yepme.com, has been in troubled waters with mass layoffs appearing imminent and salaries getting delayed for months altogether.
However, Gaur told VCCircle on Tuesday that the firm will "settle employees' issues in 15 days" and that Yepme has no plans of shutting down India operations.
In February, Yepme joined e-commerce giant Amazon's global selling programme, under which its fashion products will be sold in key European markets, including the UK, Germany, France, Italy and Spain.
Yepme's last disclosed funding round was in September 2015 when it raised $28.6 million from Malaysia's Khazanah Nasional Berhad, according to VCCEdge, the data research platform of News Corp VCCircle.
In FY2015-16, VAS Data Services posted net sales of Rs 104.1 crore and a loss of Rs 183.8 crore. In FY2014-15, it registered net sales of Rs 81.4 crore and a loss of Rs 106.3 crore, according to filings with the Registrar of Companies (RoC).