Ask the startup folks, and they will tell you how tricky the first couple of years are—challenges are aplenty, capital is scarce, firefighting is perpetual and chaos is the order of the day. Besides, there is constant pressure to secure funding, a problem that seems to become even more daunting as the runway nears its end.
In such times, access to critical tools and a little handholding by industry veterans can make or break a startup's fortunes.
That's exactly where social media giant Facebook's early-stage mentorship programme, FbStart, comes in.
Launched three years ago, it provides startups with services from over 20 partners, including global majors like Amazon, UserTesting, Dropbox and MailChimp. To deep-pocketed, well-entrenched companies, free CRM, video-conferencing services, customer support and email marketing solutions might not seem like much, but FbStart understands that these can streamline processes and boost efficiency manifold at cash-starved startups.
Not just this, startups that are part of FbStart also get free access to over 25 services, including open source tools like React Native, FBLogin and Account Kit and App Analytics.
Besides, free access to paid tools in areas like design and marketing helps the founders and the team focus on the core offering rather than fish for growth hacks all the time. With FbStart, companies get roughly 3-6 months to test the product, and exposure to proven tools that successful companies around the world use.
"Facebook's intent is to make the world more open and connected, and we have been doing this for over 13 years now. But there are still billions who are not connected. And it's a daunting task for a single company to achieve this. So we thought why not launch a programme that can help local startups build better products and scale their businesses faster," said Satyajeet Singh, who handles product partnerships at Facebook India.
Any startup with a functional mobile app on Google Play or App Store is eligible to apply for FbStart, but sometimes FbStart itself reaches out to potential startups to educate them about the programme.
Guidance and mentorship are crucial, of course, but there's something else the Facebook brand brings—credibility. With startups in every field dime a dozen, a Facebook logo on the pitch deck can work wonders. It reflects not just the fundamental strength of the idea, but also the fact that seasoned experts back its viability.
"Being with FbStart adds to the trust value. It helps us in the longer run to build a brand. Plus, it give us an initial push to start using Facebook ads and other services, which we were wary of before," said Utkarsh Kawatra, co-founder of co-working space myHQ, on how the programme lent more credibility to his startup.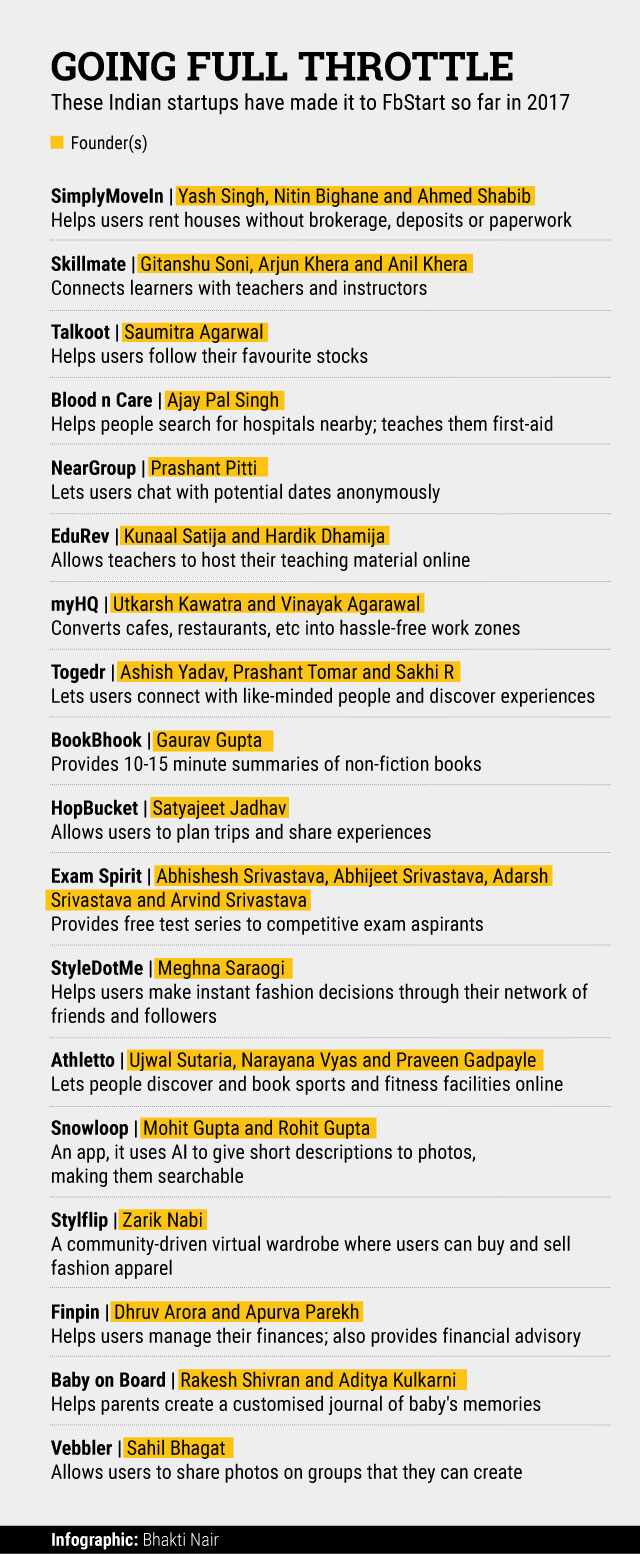 Startups inducted into the programme are not just from various domains, but also at varied stages of existence. Even established startups like travel app ixigo and music-streaming app Saavn have benefitted from the programme, apart from language-learning app English Dost, childcare app MyChild and others.
Ixigo was inducted into the programme in 2015, and it got support throughout 2016. Through key analytics, it was able to squeeze much more juice out of its Facebook campaigns, and the results were way better those from other marketing channels.
"We had queries targeting users, and we were able to optimise our campaigns with their help. So we had about roughly 12% higher usage from Facebook logins. An average CPI (cost per install) of $0.04 is unheard of in the travel tech industry. The cost of downloads is 10 times higher otherwise," said Himanshu Periwal, vice president - growth, Ixigo.
Ixigo is one of the key players in the online travel segment, and counts MakeMyTrip and SAIF Partners as its investors.
Even from the heritage point of view it is a huge leap, for it propels startups to the social media giant's exclusive community of names like Adobe, Coursera, Dropbox, and Salesforce.
Inducted startups can seek help and suggestions from the Facebook team on the product they are working on, and also participate in flagship FbStart events. Facebook conducted two main events in India last year: an eight-city roadshow; and multiple webinars connecting entrepreneurs with the team at Menlo Park.
There are two tracks to FbStart—bootstrapped and accelerate. Early-stage startups usually get selected for the bootstrapped programme, which brings with it $40,000 worth of services. Accelerate is for growth-stage startups, and it offers tools and services worth $80,000.
India is the second-largest country for FbStart after the US, in terms of the startups inducted, Facebook's Singh said.