(L to R) Tejasvini Shirodkar, Karen Issac and Pearl Boga
The Indian education sector can be classified into pre-school, elementary education, secondary education, higher education and vocational education. Sub-species of the sector may also include coaching classes and private tutorials. University Grant Commission (UGC) is the statutory body governing the coordination and maintenance of standards of higher education in the country. Various boards such as Secondary School Certificate (SSC), Higher Secondary Certificate (HSC), Central Board of Secondary Education (CBSE) and Indian School Certification Examination (ICSE) govern the regulations pertaining to the sector. In addition, there are approximately 40 International Baccalaureate (IB) schools in India. The Indian Institutes of Technology (IIT) and the Indian Institutes of Management (IIM) have been the stronghold of the sector. Further, there is a wide opportunity for players to enter areas such as training institutes, coaching classes and vocational training institutes through public-private partnerships. However, a lot of regulatory reform is required at the grassroots level in the sector, though India has been gradually progressing towards bridging this gap by implementing international education standards.
Investor sentiment towards the education space
In the last decade, India has realised the importance of education in its totality, and not just academics, which is crucial for the overall development of an individual. Strong possible returns and a sense of social responsibility encourage foreign investors to invest in the education sector in India. Increasing disposable incomes and willingness of people to spend on education are key factors driving foreign direct investment (FDI).
Further, with corporate social responsibility (CSR) on the rise, a lot of investment is made by corporates and HNIs towards the development of the education sector. India's working age population is almost two-thirds of the total population. Thus, in order to provide incentives for FDI, the government needs to reform education policies and concentrate on higher education by addressing the shortage of institutions and delivering high-quality education and training.
Foreign direct investment
Hundred per cent FDI is permitted in education under the automatic route. The government has also allowed for 100% FDI in the construction development projects which would also include educational institutions. Below is a comparative analysis of the total inflow of FDI in education since the late 2000s: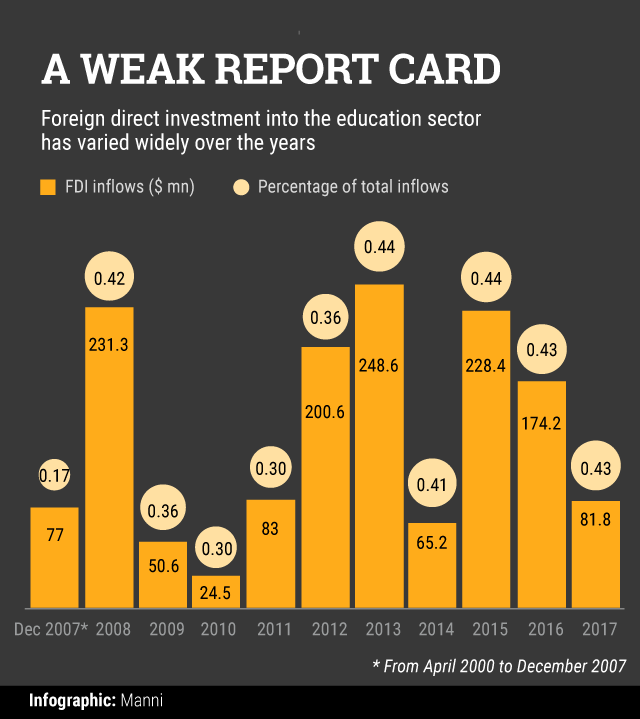 The total inflow of FDI in the education space in India has not been consistent over the last 10 years. The key hindrance continues to be out-dated legislations relating to education which have failed to match up to international benchmarks, in addition to regulatory obstacles and red-tapism.
Opportunities for foreign investors
Investments in the education sector are not limited to pre-school, higher and secondary education level. There are more avenues for investing in the education space such as vocational and technical training as well as tutorial services since these sub-sectors are highly unregulated. With a fair amount of strategic planning and insight, investors could invest in this sector to achieve favourable profits.
Whereas a considerable chunk of population in India is below the age of 25 years, foreign investors could look at using the demand created by such demographic variation to their advantage by investing in segments required to meet such demand.
Education technology companies in India raised around $323 million across 26 deals in 2016 against $98 million raised through 23 deals in 2015. Following are a few of the key deals in the education sector:
➢ Unacademy, a multimedia content and service provider, raised around $11.5 million in a funding round led by Sequoia India Capital Advisors and SAIF Partners
➢ KKR and Co Lp, a US-based private equity giant, made an investment of $105 million in a coaching firm Resonance Eduventures Ltd
➢ International Finance Corporation (IFC) invested $15 million in Byju's for a minority stake.
From the above numbers, it is evident that FDI in education is more in the unregulated segment.
Challenges faced by foreign investors
At the pre-school level, there are no formal regulations governing the sub-sector, though the current population under the age group of two to six years is between a whopping 15 to 16 crores. At the elementary level, high drop rates plague the sub-sector.
The problem areas affecting the higher education level are over-centralisation, limited access and regional disparity. The UGC regulations governing higher education require that all deemed-to-be universities shall be registered as a not-for-profit society under the Societies Registration Act, 1860 or as a not-for-profit Trust under the Public Trust Act, or as a not-for-profit company under Section 8 of the Companies Act, 2013. The regulations also state that a private university is the one that is established through a state/central Act by a sponsoring body which is either a not-for-profit society or company. Since FDI is not permitted in a society or trust, in order for an investor to invest in the sector, they will be required to comply with the UGC regulations and invest in a not-for-profit firm—that is, a company incorporated under the provisions of Section 8 of the Companies Act, 2013 (erstwhile Section 25 under Companies Act, 1956). However, Section 8(1)(b) of the Companies Act, 2013 requires the company to apply its profits towards promoting the objects of such company. Thus, foreign investors don't perceive the regulated education sector as a viable investment option.
Reasons for low investment in the regulated education sector include over-centralisation, uncertainty regarding procedures for foreign investment and overlapping of legislations between the centre and states. Accessibility, quality and incompatibility with international standards also continue to be among challenges for the Indian education system.
The regulating authorities could possibly look to amend the current mandatory requirement as far as the 'not-for-profit' model is concerned in order to attract increased FDI inflow in the country. This will lead to a rise in FDI in the unregulated education sector.