Even though the credit crunch crisis is sweeping the alternative investment industry, it does not seem to have so much of impact on micro finance institutions' (MFI) fundraising plans. At least as of now. Swadhaar FinServe, a Mumbai-based MFI, has raised $3 million from Michael & Susan Dell Foundation, ACCION and Unitus Equity Fund. This investment comes soon after Chennai-based Madura Micro Finance announcing Rs 22 crore investment from Unitus Equity Fund.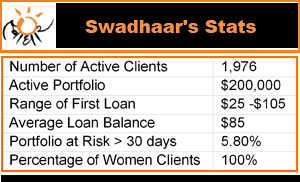 Swadhaar is promoted by Veena Mankar and Haseena Vahanvaty. The MFI has a focus on providing microfinance services for the urban poor and micro entrepreneurs. It has been registered as a non banking finance company (NBFC) recently.
The firm plans to focus on urban markets in India, aiming to serve over 100,000 clients. Swadhaar has been running pilot financial products and services for urban slums since 2006 through Swadhaar FinAccess. Now, the newly-formed NBFC will acquire Swadhaar FinAccess.
ACCION has been in micro finance business since 1961 and started its operations from South America. Swadhaar plans to leverage the expertise and get technical assistance from ACCION to now expand its network. In the past also, Swadhaar FinAcess has received support from
Unitus, and the Dell family foundation.
ACCION has also been involved with some other MFI initiatives in India. In December 2006, ACCION established a strategic partnership with Yes Bank to launch Yes Sampann. It has also partnered with Grameen Koota in India.
"Swadhaar has continually experimented with new technologies and products to lower transaction costs and better serve the needs of its clients," said Maria Otero, president and CEO of ACCION. "Our 20% investment is a symbol of our confidence that Swadhaar will continue
to serve its clients in new and beneficial ways."
This investment is part of a first round of capital investment in Swadhaar FinServe totaling $3 million. Other investors include the organization's founders, an Indian family trust and private investors.
Unitus Capital served as Swadhaar's financial advisor while Amarchand Mangaldas acted as Swadhaar's legal counsel.
Unitus Equity Fund L.P, which is managed by Elevar Equity LLC, has invested in a host of MFI's in India. Some of these are Hyderabad based SKS MicroFinance and Bangalore based Ujjivan Financial Services