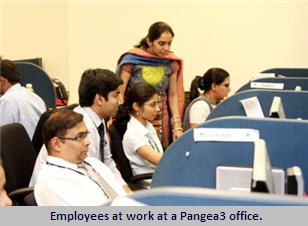 Thomson Reuters, the leading global news and business information company, announced that it has acquired Pangea3, a leading Indian legal process outsourcing (LPO) backed by Sequoia Capital India. Terms of the deal were not disclosed.
A report in Business Standard put the deal amount at $35-40 million, which is not independently verified. The deal offers an exit to the investors such as Glenrock Group LLC who invested $4 million in 2006 and Sequoia Capital $7 million in 2007.
This is the second acquisition by Thomson Reuters in India in the legal space. In 2009, Thomson had bought out IndLaw Communications, a Delhi-based legal database firm in which PE firm 2i Capital had invested. (See story)
Pangea3 was founded in 2004 by David Perla, formerly Monster.com vice president, Business & Legal Affairs, and Sanjay Kamlani, who was OfficeTiger CFO and general counsel. Perla and Kamlani will continue in their current roles. 
The acquisition would give Thomson Reuters a presence in legal outsourcing market where it can sell information, software and workflow solutions to legal professionals. The company already has a legal division called Reuters Westlaw.
Pangea3 is headquartered in New York and Mumbai, India, and has 650 employees at its major delivery centers in Mumbai and New Delhi. All 650 Pangea3 employees will join Thomson Reuters, remaining based in their New York, Mumbai and New Delhi offices.
Pangea3 also brings to Thomson Reuters a client base which includes Am Law 250 law firms and some of the world's largest financial services, pharmaceutical, healthcare, food and beverage, technology and consumer goods companies, a release said.
The firm offers a variety of services which are organised into four lines of business including legal document review; corporate transactions; intellectual property; and risk management and compliance.
Peter Warwick, President and Chief Executive Officer of Thomson Reuters, Legal, said: "Legal process outsourcing adds a vital strategic complement to the Thomson Reuters portfolio of specialised information and workflow solutions, and will be key to helping law firms and corporate legal departments be more responsive and cost-effective." The global LPO market is growing at more than 20% annually and projected to exceed $1 billion this year.
"Joining forces with Thomson Reuters will further accelerate and expand our ability to provide impactful and transformative solutions to our corporate and law firm clients," said David Perla and Sanjay Kamlani, co-CEOs of Pangea3 in a statement.
Interestingly, in June 2010, Pangea3 had told Legally India that it was planning to invest Rs 48 crore ($10.6m) in its Delhi office within two years to make the location outgrow its head office Mumbai.