A Google search with keywords 'install solar panel on home rooftop' returns links to two non-profits, sites with tips on installation and maintenance of such systems, and some frequently asked questions answered by the Ministry of New and Renewable Energy. There are no ads of solar panel companies vying for the retail user's attention.
That, in a way, explains how mature this market is.
For all the encouraging commentary on the subject of green energy, and solar in particular, the truth remains that the retail user is clueless about the first steps, let alone the potential savings and return on investment. And, more often that not, the lack of information results in inaction.
Dev Arora, a computer science engineer from NIT Kurukshetra, faced all these obstacles when he was trying to install solar panels at his place. Not only did he find the absence of standardised information challenging, but what concerned him more was inconsistent advice and the plethora of technologies on offer—basically, almost every company had a different take on the subject.
To quell these doubts and put an end to misconceptions around solar panels' cost and maintenance, around two years ago, Arora founded 8Minutes with Anuj Gupta, an engineer from NIT Jaipur. Both had worked with construction firm GMR in the past.
A few months later, Arora met Arjun Srihari, an economics graduate from Mumbai's St Xavier's College at a conference organised by The Climate Reality Project, a non-profit founded by former US vice president Al Gore. Enthralled with the idea, Srihari soon joined as a founding member.
8Minutes, run by 8Minutes Future Energy Pvt. Ltd, does everything from analysing whether it's feasible for a user to go solar, to designing and procuring the system for them. It also takes care of the entire documentation process. Currently, the startup has projects running in Delhi-NCR, Punjab, Haryana, Rajasthan, Gujarat and Karnataka. Madhya Pradesh and Tamil Nadu are on the cards.
Its target customer is anyone who is looking to get solar panels installed at their house, office or any institution. The user can explore the available options by sharing their roof size and average power bill, and the startup's algorithm fetches details of costs, return on investment and savings, among other things. The user can then decide if they want to go ahead.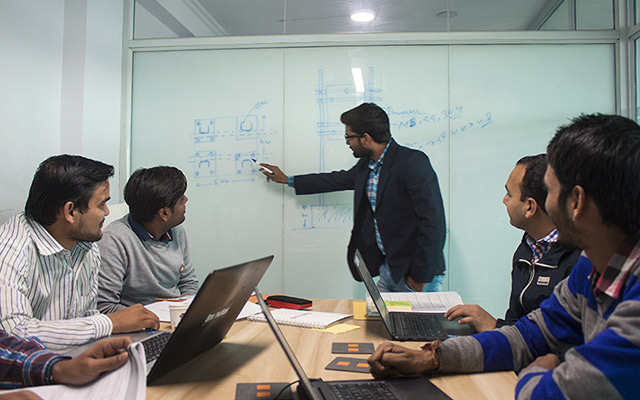 "There was nothing standard earlier. It was difficult for us to comprehend how it worked or the economics behind it," says Srihari.
The technology, says Srihari, has evolved quite a bit over the last two years and costs have been coming down. Compared to five years ago, the cost has come down to a fraction. "The price fall was steep in 2015. Now technology has brought in more consumers, because of which the cost of running is also falling," he adds.
But just because costs continue to fall doesn't mean one should refrain from getting a system installed now. Says Srihari: "You have to understand that the opportunity cost will go down if you do it now. Solar is an upfront cost, but if you look at the economics of it, it pays itself off very quickly. The return on investment is typically three years, after which everything is savings."
In fact, so confident is the founding trio about the economics that they claim investing in solar panels beats returns from bank deposits and even the stock market. "The RoI is just unbeatable," Srihari says.
Another reason 8Minutes stands out among firms in the solar segment is the financing option it offers. Though there are well-known names offering financing facility for commercial use, 8Minutes claims to be the only one doing it for the market.
Those availing the financing option need not pay anything upfront, whether it's the cost of infrastructure, installation, labour, or documentation. A 'solar bill' is generated every month, and users pay it just like they would pay their usual power bill, except it is 30-40% cheaper, claims the startup.
Under this arrangement, called a power purchase agreement in industry parlance, the customer starts making savings from the first bill. This continues for the period mentioned in the agreement, after which the ownership is transferred to the customer. Thereafter, all the electricity generated is essentially free of cost.
8Minutes claims to take care of the panels' maintenance through its lifetime, which is usually 30 years. It also offers warranty on the panels.
"In terms of the split, commercial market is currently our mainstay. Also because the scale of commercial projects is larger, our 15 plants generate the lion's share of our revenue. We are also in the education space," says Srihari.
In the residential space, the company claims to have done 20-30 homes, of the approximately 150 solar homes in Delhi. Though its numbers are small now, it is betting big on the market.
"Residential in India is still 9-15 months away. Having said that, it is a huge market already. In 15 months, its maturity could be compared to global levels," says Srihari.
The startup, which raised some funds in June last year, used the capital to expand the team and upgrade technology. It is currently in talks with investors to close a pre-Series A round of funding, after which it will scout the market further for a Series A round. 8Minutes currently employs 38 people across functions such as design and maintenance, project management, sales, marketing, research and development, and customer satisfaction, among others.
The company claims that it broke even nine months ago, and is profitable at the moment.