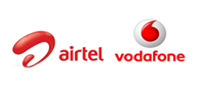 India's leading cellular carriers are likely to challenge a government demand for surcharges totalling more than $4 billion on their airwave holdings, an industry official said.
India traditionally sold airwaves bundled with permits at a low state-set price, but following a scandal over the grant process a recent auction of second-generation airwaves has resulted in newer carriers paying nearly seven times more.
The telecommunications ministry has started sending notices demanding carriers including Bharti Airtel Ltd and Vodafone Group Plc's  local unit pay a surcharge, four sources with direct knowledge said, after the cabinet approved the plan in November.
"Our lawyers will review those and then most probably we'll go to TDSAT (Telecom Disputes Settlement and Appellate Tribunal)," said Rajan Mathews, director general of industry lobby Cellular Operators Association of India, which has most of the country's major carriers among its members.
The government has said the surcharges on long-established carriers are aimed at creating a level playing field between old and new operators.
The older operators say the move violates the conditions of their licence agreements with the government.
Bharti will have to pay a surcharge of about 52 billion Indian rupees, the burden on Vodafone India will be about 36 billion rupees, the sources said.
Idea Cellular  will have to pay 18.82 billion rupees, while Reliance Communications  is being asked to pay 1.73 billion rupees, they said.
The surcharges are for companies operating on the GSM technology platform and are benchmarked to winning bid prices in the recent auction. Companies have the option to pay the money upfront or in annual instalments with a 9.75 per cent interest.
Reliance Communications, which operates mobile services on both GSM and rival CDMA technology, will have to separately pay surcharges for CDMA airwaves. The CDMA surcharges are yet to be finalised as the government is waiting for an auction in March.
The scandal over cut-price lucrative phone permits in India, the world's second-biggest telecoms market by customers, has so far led to a former minister and several high-profile corporate executives facing trial. The Supreme Court last year ordered permits of several carriers to be revoked.