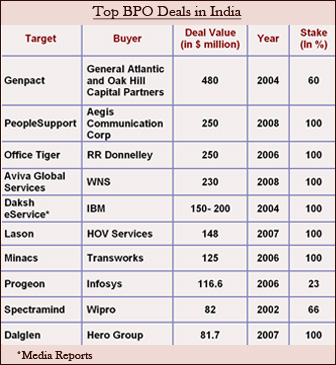 Tata Consultancy Services (TCS) has announced its acquisition of Citigroup's captive BPO arm Citigroup Global Services (CGSL) for $505 million. This deal marks the largest buyout of a foreign captive BPO in India. The largest captive BPO acquisition till date was WNS's take over of Aviva BPO for $230 million.
TCS and Citigroup have also signed a contract under which the former would provide it with services totalling $2.5 billion over the next 9.5 years. Citigroup has been selling off assets worldwide in order to cut its losses from the subprime crisis. Citigroup BPO handles services such as credit cards, consumer finance, retail banking, capital markets & banking as well as global transaction services.
The Citi BPO has EBIT margins of 20% and is expecting the revenues to touch $278 million this year. The transaction is expected to be closed by last quarter of FY08. Merrill Lynch was the advisor to TCS on the deal.
TCS said in a statement that the acquisition will broaden its portfolio in the end-to-end IT and BPO services in the global banking and financial services sector. TCS said that it will leverage on capabilities of Citi BPO to serve large global banks.
With this acquisition, Citi will be able to concentrate on its core banking operations. Citigroup BPO's main operations are in Mumbai, Chennai and Gurgaon and it employs around 12,000 people. This would be added to the already 8,000-strong back-office operations team of TCS.
There are quite a few global players, selling out their captive BPO operations in India. Apart from Citigroup, British insurance major Aviva is selling its BPO to WNS. Also British Telecom, which contributes 70% to the revenues of the Tech Mahindra, was reported to be selling its stake in latter.
Citi has been selling its businesses worldwide in part of what it new chief Vikram Pandit calls "re-engineering" of business. Since the sub-prime crisis started the banking giant has written down losses of $55 billion. It has also put Citicorp Finance on the block in India.
Citicorp Finance has a $1 billion commercial vehicle & construction equipment loan portfolio and Citi expects to sell it for Rs 850 crore. There were also reports of Citi mulling a stake sale in HDFC bank.