On 24 October, the Tata group removed Cyrus Mistry as chairman, a move that took the entire business community by surprise. Although, initially, the Tata group did not give out any reasons for Mistry's removal in the immediate wake, since then much water has flowed under the bridge, with allegations and counter allegations. Here's all that we know so far.
What exactly happened on October 24?
On 24 October, the group, which is led by holding company Tata Sons, said Mistry had been removed and that former chairman Ratan Tata will assume interim charge of the group. "The board has constituted a selection committee to choose a new chairman. The committee comprises Ratan N Tata, Venu Srinivasan, Amit Chandra, Ronen Sen and Lord Kumar Bhattacharyya, as per the criteria in the Articles of Association of Tata Sons," Tata Sons' statement said. 
The Tata group said that the search committee will find the group's next chief within four months. 
How did Mistry respond to his removal?
Following his removal, Mistry wrote a letter to the board of Tta Sons. In his letter, Mistry alleged that he was promised a free hand but that never happened. He said that following his appointment as chairman of the Tata Group, the Articles of Association were modified, "changing the rules of engagement between the Trusts, the board of Tata Sons, the chairman, and the operating companies". Mistry went on to say that "inappropriate interpretation" of the rules followed, which "severely constrained the ability of the group to engineer the necessary turnaround".
The issue essentially relates to Article 118, which was amended in 2012 to give more powers to directors nominated by the Tata Trusts in the appointment and removal of the chairman.
Later, in the same letter, Mistry said that directors nominated by the Tata Trusts, the largest institutional shareholder in Tata Sons, were "reduced to mere postmen". Mistry pointed out how once, two trust directors (Nitin Nohria and Vijay Singh) "had to leave a Tata Sons board meeting in progress for almost an hour, keeping the rest of the board waiting, in order to obtain instructions from Mr (Ratan) Tata".
Mistry also questioned the foreign acquisition strategy of the group that "left a large debt overhang", with the company's European steel businesses facing a potential $10 billion impairment. In his letter, Mistry also raised questions over the acquisition of assets by Indian Hotels, bad loans extended by Tata Capital, which could cost the group $4-5 billion, the ongoing legal tussle between the Tatas and Japanese telecom giant NTT Docomo, which could potentially burn another billion-dollar hole, unethical deals at Air Asia and issues related to Tata Motors and Tata Power.
How did the Tata group respond to Mistry's allegations?
Responding to Mistry's allegations, the Tata group put out a statement, in which it said that the Tata Sons board gives its chairman "complete autonomy to manage opportunities and challenges..."
"However, the tenure of the former chairman was marked by repeated departures from the culture and ethos of the group," the statement further said. "It is unfortunate that Mr. Mistry had overwhelmingly lost the confidence of the members of the board of directors for a combination of several factors. The directors of the Tata Sons board had repeatedly raised queries and concerns on certain business issues, and Trustees of the Tata Trusts were increasingly getting concerned with the growing trust deficit with Mr. Mistry, but these were not being addressed. The Tata Sons board, in its collective wisdom, took the decision to replace its chairman in the manner undertaken," the company further said.
Following these allegations and counter-allegations, it was reported that both sides had put in place communication and PR teams to deal with the fallout of the controversy.
What has Ratan Tata been upto, since taking charge?
Even as the media continues to speculate on who would succeed Cyrus Mistry as Tata Sons' chairman—the names of Tata Consultancy Services CEO N Chandrasekaran and former company vice president S Ramadorai are doing the rounds—Ratan Tata has reportedly put together a crack team of executives to manage the show for the time being. Former Tata Power managing director Prasad Menon, who was heading Vistara airlines and Tata Chemicals in the past, will reportedly manage Tata's newly created office. S Padmanabhan, who heads Tata Quality Management Services, will now be the company's human resources head, after NS Rajan quit. Rajan was widely believed to be a Mistry confidante and had put in his papers after the latter was removed as the chairman.
Ratan Tata has, however, retained at least two executives—Harish Bhat and Mukund Rajan—who were part of Mistry's so-called group executive council. Bhat will now look after the Tata group's various brands as its business development head. Rajan—the younger brother of former Reserve Bank of India chief Raghuram Rajan—will continue as chief sustainability officer and chief ethics officer, and will also manage the group's overseas offices.
Reports say that at least four other executives—group chief technology officer Gopichand Katragadda, and three Tata Trust executives—NA Soonawala, RK Krishna Kumar and R Venkataramanan—will continue to offer their inputs to the interim chairman. Tata Sons has appointed a committee to find a new head within four months.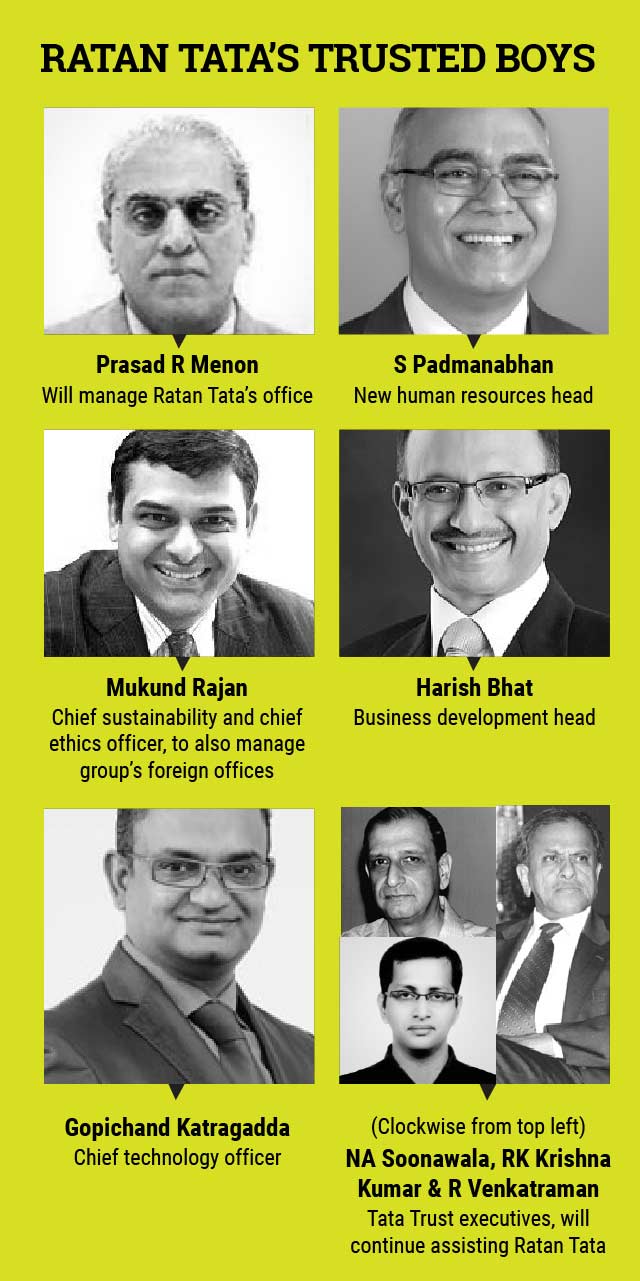 But isn't Mistry the chairman on various listed Tata Group companies?
Yes, and he has reportedly decided to dig in his heels and not to quit, A Press Trust of India report said earlier this week that  Mistry plans to continue in his current role at Tata group firms, including Tata Steel, TCS and Tata Motors, where he is chairman. At present, he is the chairman of Tata companies such as Tata Steel, Tata Consultancy Services, Tata Motors, Indian Hotels Co Ltd (IHCL), Tata Power Company, Tata Global Beverages, Tata Chemicals, Tata Industries and Tata Teleservices. Mistry is slated to chair the upcoming board meetings of IHCL and Tata Chemicals on November 4 and 10, respectively, to approve quarterly results, the PTI report said.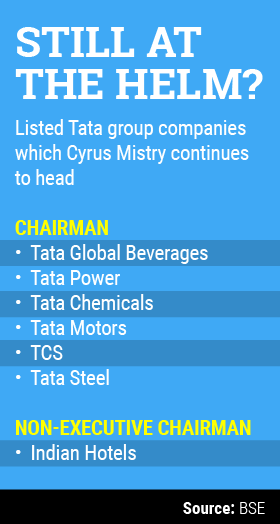 Following these reports, Several other stories, citing Tata group sources, said that the group does plan to remove Mistry from the chairmanship of these companies.
Does Mistry still have powerful friends apart form his own family?
Yes. In fact, several experts have come out in his support, as have some politicians including Bharatiya Janata Party leader and Rajya Sabha member Subramanian Swamy.
On Thursday, Swamy reportedly said that Ratan Tata had been "the most corrupt chairman" in the history of the Tata group. Swamy said that the latter was "not even a Tata" as his father had been an adopted child. Incidentally, this is not the first time that the former Union minister has trained his guns on Tata who headed the Tata Group for 21 years before Cyrus Mistry took change as its chairman in 2012. Earlier, Swamy had reportedly written to Prime Minister Narendra Modi demanding that the government set up a special investigation team to probe Tata for money laundering
In fact, even before the controversy surrounding Mistry's removal broke last month, Swamy had moved the Delhi High Court demanding that the flying license awarded to AirAsia India be suspended, alleging that the same had been obtained through "fraud." AirAsia India is a joint venture between Malaysia's AirAsia Bhd and the Tata Group.
In his letter to the board following his ouster, Mistry had spoken of a "fraudulent transaction" of Rs 22 crore, involving "non-existent" parties in Singapore and India.
On Friday, it was reported that all six independent directors of Indian Hotels, which is a listed Tata Group company, were behind Mistry. A report by The Times of India said that Nadir Godrej, Deepak Parekh, Keki Dadiseth, Ireena Vittal, Gautam Banerjee and Vibha Paul Rishi "met at the group's headquarters, Bombay House, and were unanimous in their praise for steps taken by Mistry in providing strategic direction and leadership to the company." The board of Indian Hotels has 10 members, including Mistry and his elder brother Shapoor, the report noted. This, if true, could be a potential setback for Ratan Tata, in his efforts to remove Mistry.
Like this report? Sign up for our daily newsletter to get our top reports.