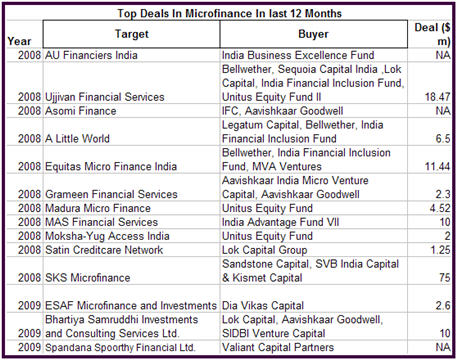 Grama Vidiyal Micro Finance Limited (GVMFL), a Tamil Nadu based microfinance institution, has raised $4.25 million from MicroVest and its existing investor Unitus Equity Fund in its second round of fundraising. Vinod Khosla, who had also invested in the first round of funding of GVMFL, has invested in this round too, through his non profit private foundation, Amar Foundation.
The company will use the funds for meeting its expansion plans. A part of the funds will also be used to meet the enhanced capital adequacy norms set by the Reserve Bank of India (RBI). Unitus Capital was the advisor in the transaction.
GVMFL has around 400,000 microfinance clients and has a loan portfolio of over $40 million. It is a profitable microfinance institution that serves poor women in Tamil Nadu. In its first round of fundraising, GVMFL raised $3.7 million from Unitus Equity Fund L.P. and Vinod Khosla, in February 2008.
MicroVest II, MicroVest's newly launched equity fund which invests in Tier I microfinance institutions, has invested in GVMFL. Large institutional as well as private investors have invested in MicroVest II.
MicroVest Capital is a global microfinance intermediary that provides financial capital to microfinance institutions in emerging markets. It was founded by CARE, MEDA, and the Seed Capital Development Fund.
MFI investments are picking up in the southern region of the country. Recently Kerala based MFI, ESAF Microfinance and Investments raised Rs 12 crore from Dia Vikas Capital, a 100% subsidiary of global microfinance and enterprise development services provider Opportunity International Australia. Karnataka based Navachetna Microfin Services Ltd also raised Rs 1.5 crore from a group of individual investors and IT professionals.
Last month, SKS Microfinance had raised Rs 75 crore by issuing one year NCD (non convertible debentures) at a coupon rate of 10%. It also listed its NCDs listed on the Bombay Stock Exchange (BSE).
Hyderabad-based Share Microfinance Ltd is also raising a $50 million round of equity funding. International Finance Corp (IFC), the private equity arm of the World Bank, is looking to invest in the firm with other investors.