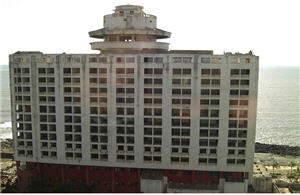 The Tata group-owned Indian Hotels Co. Ltd (IHCL) said it would acquire a controlling stake in Mumbai's Sea Rock Hotel (in the picture) for Rs 680 crore. IHCL is buying the stake in ELEL Hotels and Investments Ltd , a closely held company and a subsidiary of Clardiges Hotel Pvt Ltd, which holds the sublease for the land on which the 480-room Sea Rock hotel is located. Sea Rock is located in Bandra, just opposite to Taj Lands End Hotel, a premium property owned by IHCL
The company has an existing arrangement with the company that owns the Sea Rock hotel in Mumbai to provide technical and management expertise for the restoration and operations of the hotel, when the redevelopment of the property is completed, IHCL said in a statement to Bombay Stock Exchange.
IHCL plans to demolish the existing structure at site and "re-develop the area as a high end world class luxury hotel / convention centre with retail facilities, fully integrated with the company's existing Lands End hotel, both operating in a synchronized manner," the statement said.
According to reports, IHCL will spend Rs 500 crore for redeveloping Sea Rock. Mint reported that IHCL is acquiring 85% in Sea Rock and will eventually increase its stake to 100%. The redevelopment will be completed in 18-20 months.
The acquisition will give IHCL an expanded footprint in north Mumbai, which after Bandra-Worli sea is operational will reduce the distance to international airport to just 10 minutes' drive and reduce the travel time to South Mumbai by half. This will also boost Taj Group's room capacity to 1,425 in Mumbai making it the biggest hospitality provider in the financial capital.
Sea Rock was a landmark hotel in Mumbai, but stopped functioning after the hotel got invloved in the serial blasts of 1993. Sea Rock Sheraton Hotel was started by the Luthria brothers in 1970s, which was bought over by the Nandas of the Claridges Hotel chain for Rs 330 crore in 2005.