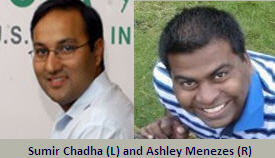 Sumir Chadha, Managing Director of Sequoia Capital India, is the new chairman of the Indian Private Equity & Venture Capital Association (IVCA). Chadha has been elected to head up the body for a term of two years after he received maximum number of votes in the first ever elections to the executive committee of IVCA.  
Ashley Menezes, who is a Managing Director and CFO of ChrysCapital Investment Advisors, has been elected as the Vice Chairman. Menezes got the second highest number of votes in the just concluded election. 
According to a statement issued by IVCA, the elections were "successfully conducted with over 82% of the members exercising their votes". This is a strong endorsement of the work that IVCA has done over the year, the release said. 
Besides Chadha and Menezes, the members have voted five others to represent them on the executive committee. They include Darius Pandole, New Silk Route (NSR) Partners, Niten Malhan, Warburg Pincus, Nitin Deshmukh, Kotak Investment Advisors, Satish Kumar Mandhana, IDFC Private Equity, and Sudhir Sethi, IDG Ventures India. 
The IVCA charter envisages that the chairman is one who polls the highest number of votes and the vice chairman the second highest votes. The 17-year body has 141 members.
14 IVCA members, which included Achal Ghai, founder and managing partner, Avigo Capital, Alok Mittal, MD, Canaan Partners, Archana Hingorani, CEO, IL&FS Investment Managers Ltd, chose to contest the elections for the seven seats to the IVCA Executive Committee. "The large number of members that ran for the seats reflect the increased attention by the PE/ VC Firms and is a strong statement that the PE/ VC industry feels the need to come together to bring about positive change...create an environment conducive to promoting entrepreneurship and encouraging innovation and growth of private equity and venture capital in India," the release said.
Luis Miranda, the outgoing IVCA Co-Chairman, and Chairman IDFC Private Equity, added, "We had committed to revitalise IVCA, make it more relevant and representative, and to hold these elections in 2010. We achieved all these goals."
The new executive committee takes charge from January 1, 2011 to December 31, 2012. 
Mahendra Swarup remains as President of IVCA.