​​​Arunn Guptaa, founder, Startup Cafe
​​Till two decades ago, ​Gorakhpur was indisputably​ the crime capital of​ ​​Uttar Pradesh. ​In fact, the BBC ​once gave it the moniker 'India's Chicago', for it had all the elements of a ​mafia-run city​, ​from syndicated crime​ to gangland bosses​. Of late, the city has gained prominence on the country's political map for another reason—​it was the Lok Sabha​ ​constituency of the state's chief minister Yogi Adityanath.
Something futuristic like a co-working space ​for startups​ ​​in the same city, therefore, will be seen with both hope and scepticism. Hope, that the new​-age economy ​and ​entrepreneurship​ are going beyond​ ​the metros ​and inspiring the youth in small towns​. Sceptisicm, that it's a politically engineered move to generate​ goodwill​ ​at a time when startups have become ​integral to ​government propaganda.
But for ​​​Arunn Guptaa, founder of​ animation school ​AniClick Animation, ​the reason to open a co-working space was straightforward. Several freelancers and entrepreneurs​, he says, were finding it​ ​difficult to ​​​get affordable workspaces ​on rent. ​To cater to them, ​Guptaa launched Start​up Café, a 50-seater ​shared ​workspace, ​with an investment of Rs 30 lakh​ in August​​​.​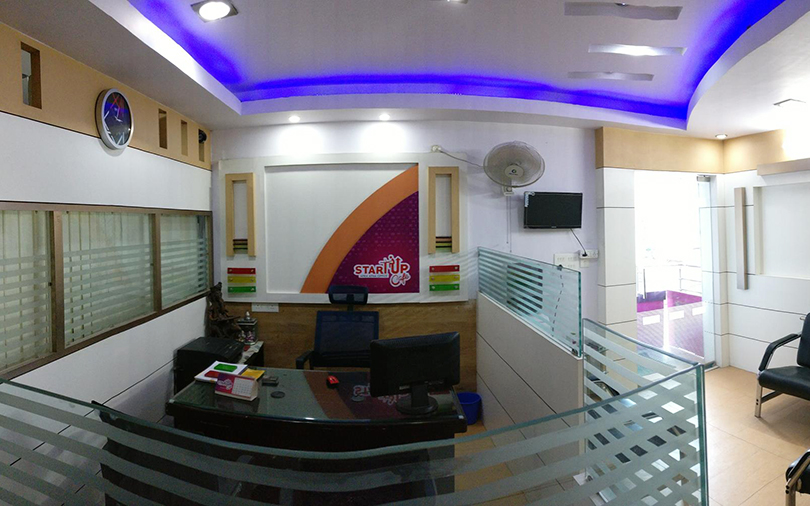 ​Guptaa ​holds a master's ​degree ​in animation. But he is no greenhorn when it comes to the startup and consumer Internet space—​he was previously​ a vendor on e​-​commerce platforms ​like Flipkart and Amazon, selling ​apparel, among other things.
​Like any other shared workspace, Startup Café offers​ basic amenities ​such as electricity, ​Internet, printers and meeting rooms with video​-conferencing​ ​facilit​y​. ​ It offers three pricing packages​: Rs 199​ per hour, Rs 499​ per day and Rs 4​,​999​ per month.​
​​"Gorakhpur is a small city ​but it's rapidly changing. It's more of business city​, rather than service​-focussed. More than 50% of the population is online and the number is increasing day by day. Due to good ​Internet connectivity, the youth are focu​s​sing on their own startups than ​opt for jobs," Guptaa ​explains.​
He claims the co-working space has ​seven clients​, and ​the team is screening ​25 ​other ​requests.​ ​​​Existing clients include a group of students developing an ed​-​tech mobile app and website​, a freelance social activist and author, and ​a local​ ​news​ ​​outfit ​that primarily​ ​​​publish​​es local developments on a Facebook page​.
"We are confident about reaching 100% occupancy soon. First, ​the office​ is at a prime location and it has all ​the ​required amenities. Second, we haven't done any marketing or advert​ising so far​. We are planning to start ​a marketing campaign soon and it wouldn't be a challenge to acquire enough clients,"​ ​Guptaa ​says confidently.
He is also setting up a co​-​working space in Varanasi, the ​Lok Sabha ​constituency of Prime Minister Nar​endra Modi.​ ​​The facility is expected to be launched sometime this month​.
​"We decided on Varanasi because we don't have any competition there. Other big cities like Noida and Ghaziabad already have co-working spaces," ​​Guptaa ​says.​ He also plans to launch such centres in Lucknow and Allahabad.​
​While ​Startup Café is ​un​arguably the first ​shared ​workspace to come up in ​the ​politically​-sensitive region of east​ern U​ttar ​P​radesh​,​ ​the​ ​co-working culture is ​spreading wings throughout the country. Besides ​metro​s,​ ​shared workspaces​ ​are popping up in smaller towns such as Mangalore, Trivandrum, Ahmedabad, Bhubaneswar, Pune and Jaipur.​
​​Several co-working space ​startups have emerged in India ​in recent years.​ 91springboard, Innov8, CoLife, InstaOffice, The Office Pass, Creator's Gurukul and Awfis are some of the ​prominent ones.
In September, New York-based ​WeWork​, the world's biggest shared workspace provider​, entered Mumbai, two months after it set up a co-working space in Bangalore.
​Many of these co-working startups have also ​attract​ed significant venture capital investments​.
In September, ​Delhi-based 91springboard​ raised fund​s from Sandway Investment Ltd, Pearl Brook Holdings, AMA Holdings, Silo Holdings and Al Nour.​ It has so far over $20 million.
​The same month, ​cricketer ​Yuvraj Singh-backed Creator's Gurukul​ ​raised an undisclosed amount of funding from a clutch of investors.​
​In June, co-working startup BHIVE raised $1.2 million in fresh funding led by existing investor Blume Ventures.​
​Other co-working startups that have elicited investor ​interest include Delhi-based Awfis, which raised $20 million in a Series B round from Sequoia Capital in April.​ ​In the same month, The Office Pass, launched by Makaan co-founder Aditya Verma, raised seed investment from a group of individual investors​.
​In February, Innov8 raised angel funding from Venture Catalysts and individual investors​ including Paytm's Vijay Shekhar Sharma and Google's Rajan Anandan, through the LetsVenture platform.​
​In January, Gurgaon-based InstaOffice raised pre-Series A funding led by online venture capital platform Globevestor and other angel investors​ ​including Toppr's Zishaan Hayath.