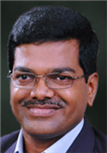 Sreenivasulu "Srini" Vudayagiri, an India based Venture Director with Lightspeed Venture Partners, is quitting the venture capital firm. When contacted, Vudayagiri said, "I will be transitioning out of Lightspeed by end of this month." He declined to comment on his next move, saying he will announce his plans at an appropriate time. "I will continue to be in the industry," Vudayagiri said.
Vudyagiri joined Lightspeed in 2007 from Thomas Weisel International, where he was heading the India-focused fund of funds. Thomas Weisel's India fund was sold off to Guggenheim Partners last year. 
Lightspeed's India investments include Four Interactive (which runs local search firm AskLaila) and Tutorvista, an online tutorial business.
Earlier this year Lightspeed appointed Bejul Somaia as Managing Director in India, a position which was held by Vudayagiri before. Vudayagiri was appointed as a Venture Director around that time.
Lightspeed, which has an India office in New Delhi, is now looking to make PIPE (private investment in public equity) deals, and is looking for a mix  between early and late stage companies. It's looking for investments in areas like healthcare, education, fincial services, advertising & media, besides its focus area of technology.