Cites of southern India have once again emerged as the top real estate destinations with six out of top ten tier II realty markets belonging to the region, according to a report by real estate data and analytics firm PropEquity. Kochi has lapped up the number one slot in a list of nineteen peer cities in the roster.
The report factored in price, supply, absorption, inventory and new launch trends to rank the cities. It also looked at execution delays and the size of the market in value terms.
"Kochi has done relatively well on several parameters including absorption in new launches, construction, committed to construction completed, and CAGR of absorption. These reasons helped the city attain the top rank in our study," said Samir Jasuja, managing director and founder, PropEquity.
He said the tier II and III cities have performed better but they too have been adversely affected during this current slowdown, which has severely impact the tier I cities.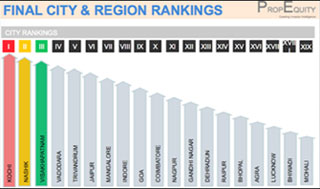 The report also notes that Kochi along with Indore achieved the highest sales from project launches in the year, among all the tier II cities. Shortlisted for the smart city project, it has pipped state capital Trivandrum, which finished at number five.
Much in line with the trend for top tier I markets, north Indian cities are affected by project delays and demand-supply mismatch and hence only one city, Jaipur, made to the top ten list while Agra, Lucknow and Mohali feature at the bottom.
Tier II markets have also been hit by the slowdown in real estate but the impact has been more from the supplier side. These 19 cities have seen residential supply fall by an overwhelming 64 per cent in the last two years as against a decline of 40 per cent in the top 14 tier I cities in the same period.
On the other hand, absorption seems to be less affected as these cities have seen demand shrink by 17 per cent in the last two years as against a fall of 32 per cent in the top tier I cities in the same period.