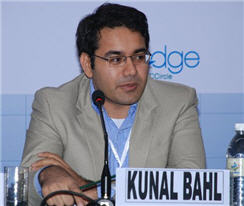 Jasper Innovative Marketing Solutions, which owns the group buying portal Snapdeal.com, has raised $12 million in a series B financing from Nexus Venture Partners and existing investor IndoUS Venture Partners. The company raised its first round from IndoUS and prior to that had angel funding from unnamed US investors.
The company has raised money to expand globally. Present in 5 countries - Sri Lanka, Nepal, Bangladesh, Maldives and Singapore, it is now considering acquiring firms in Malaysia, Thailand, Philippines and Indonesia. "We are considering 6-7 candidates that are in the range of $25,000- $1 million and plan on stock-and-cash deals. We are also looking at domestic acquisitions, companies that are allied to the group buying space," said Kunal Bahl, CEO of Jasper, in an earlier conversation with VCCircle. The company has also floated Jasper Innovation Fund for this purpose.
The firm has also allocated $2 million for domestic acquisitions. In June, 2010, Jasper acquired Bangalore-based startup Grabbon, which will be relaunched. VCCircle had reported in June that Snapdeal and Grabbon will be positioned as having different value propositions - while one would be targeted at a premium segment, the other would cater to a mass market.
The New Delhi based firm is now aggressively hiring to fill top management spots in India. Jasper is looking for people with traditional Internet skills to complement its 'hard-core' marketing stance.
Products and Revenue Contribution
Snapdeal offers one deal per day, across 30 cities in India. Customers can avail of the discount through a voucher which is emailed to them. The company has signed up with 30,000 merchants. SnapDeal claims it has 1 million subscribers to its daily deal newsletter.
Besides Snapdeal.com, Jasper owns Moneysaver Prime, a proprietary platform targeted at mobile users. Moneysaver contributes 30% to Jasper's revenues while SnapDeal.com contributes 10% to Jasper's revenues. Another 30% is from mobile coupons and management of customer benefit platforms for banks, telcos and media firms such as Vodafone Tuesday, which offers a 'buy 1 get 1 free' movie ticket deal to Vodafone mobile subscribers.
Nexus Venture Partners and IndoUS Venture Partners are some of the venture firms which are very active in internet sector. Nexus has funded companies like DimDim and Komli Media, while IndoUs has invested in companies like mobile TV firm Apalya Technologies Pvt Ltd, Myntra Designs Pvt Ltd, and online travel firm VIA.