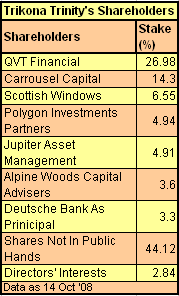 A "major" shareholder of Trikona Trinity Capital, the AIM listed real estate fund focused on India, has proposed that the fund dispose off all its assets immediately. This is apparently the fallout of a strategic review of Trikona's investment policy and the strategy regarding distributions of capital ordered by the board in December 2008. The board had found that Trikona's ability to conduct business had been "compromised". The board also found that Trikona's ability to make disposals might also be "prejudiced".  
The policy proposed by the major shareholder says that if ordinary share price is below Net Asset Value (NAV) , the company shall return capital to shareholders immediately. Trikona's share prices have been trading at a significant discount to the NAV of the company. As on 30 September 2008, the closing price of an ordinary share was 54.5 pence whilst the NAV per ordinary share was 138 pence. Currently the shares are trading at 28.25 pence, and reached a high of 116.5 pence in April 2008.
The identity of the shareholder is not revealed. The major shareholders in Trikona Trinity are Carrousel Capital, which holds a 14.3% stake,and New York based hedge fund QVT with 27% stake. Late last year Trikona Trinity appointed Andrzej Sobczak and Pradeep Verma of UK based hedge fund Carrousel Capital as Executive Directors, while QVT is not represented on the board.  
This proposal by the shareholder will be taken up in the Extra-ordinary General Meeting of Trikona Trinity on March 24, 2009 at Isle of Man, where the company is registered.  
Besides this proposal, the EGM will take up two other proposals by the board of Trkona Trinity. The board has proposed a new investment policy, under which the company will continue realisation of assets till it has returned £100 million in buybacks or has bought 70% of the company's issued share capital through buy backs. The third proposal is a to give the firm a longer time to dispose off the assets.
Interestingly, the board of Trikona Trinity has "unanimously" asked shareholders to vote against the first proposal (by the major shareholder), while they have asked the shareholders to vote for second decision.  
In spite of repeated attempts by VCCircle to contact Aashish Kalra, Managing Director of Trikona Capital, either he or the company representatives were not available for comments. Trikona Group co-founded by two New York-based NRIs, Rak Chugh and Ashish Kalra is currently managing over $1 billion in Indian infrastructure and real estate assets.
This follows a series of incidents at AIM where shareholders have questioned the promoters of India centric companies recently. The most recent is the case of Hirco. The AIM-listed real estate fund, promoted by realty major Hiranandani group, ran into a tight spot as shareholders demanded a non-Hirnandani Chairman.
other instances include Asian hedge fund Altima India Master Fund asking for removal of Raghav Bahl and Alok Verma as directors of the AIM listed The Indian Film Company (IFC). KSK Emerging India Energy Fund (KEF), a £100 million fund listed in AIM, was recently wound up after the shareholders passed a resolution demanding the same.
Trikona Trinity Capital is managed by Trikona Capital and has 17 investments in India. It has sold off some of its investments to German property fund management company SachsenFonds GmbH, with average returns of 97%.
In mid-October last year, Carrousel had called for an EGM to appoint of its executives as company directors. In the same notice Carrousel also said that it wants Trikona to sell the investments it has made in India at a cost of £220 million and return the proceeds to shareholders.