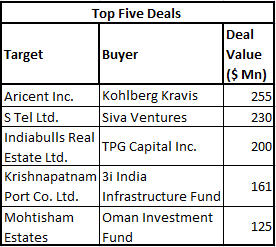 September has turned out to be the best month in terms of value of private equity deals struck in any single month in the whole of 2009. But, PE transactions are yet to come back to the early-2008 months, when deal activity was at its peak.
The total value of PE deals struck last month is pegged at $647.64 million spread across 24 transactions, according to data from VCCEdge, VCCircle's financial research platform.
This takes the total value of deals in the first nine months of 2009 to $3 billion through 179 deals. Compare this to 181 deals struck in a single quarter (January-March) in 2008.
Overall, the total value of PE deals has dropped 70% from $10 billion in January-September 2008 and the number of transactions has more than halved from 407 deals in the same period last year.
What is interesting, however, is that real estate continued to lead the charts in terms of value of PE money flowing into any sector. And, this after the sector suffered a huge loss of investor and consumer confidence in the last year. Real estate prices have picked up in certain pockets and analysts are already saying asset prices have clearly bottomed out. The realty sector accounted for deals worth $573 million in the first nine months of the calendar year. Further, the QIP rush in realty sector would add to the fund inflows.
Other sectors that attracted PE money were telecom ($511 million) followed by IT/IT Services ($456 million), energy ($305 million) and logistics ($267 million). Telecom happens to the only sector with average deal size of over $100 million at $127.7 million.
In terms of number of transactions, technology companies continued to dominate the list as in the past. IT/IT Services as a sector accounted for 32 PE transactions during the first nine months of the year or about 16% of the total. Other top sectors in terms of number of PE deals transactions include banking, finance & insurance (19), manufacturing (17), real estate (13) and logistics (12).
Some of the non-glamorous sectors which saw reasonable PE activity include agriculture with six deals worth $182 million cumulatively besides education with nine deals worth $107.59 million and digital media which had a significant number of 10 deals although the total money the sector attracted was only $9 million.