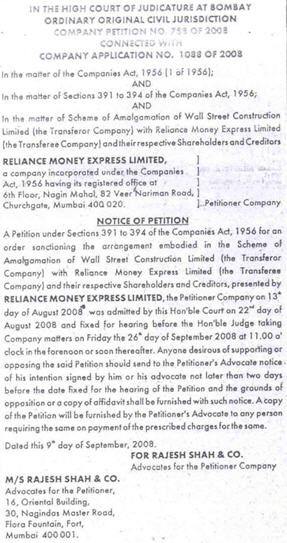 Anil Dhirubhai Ambani Group is entering foreign exchange currency business. The group's forex arm Reliance Money Express has acquired a significant stake in Wall Street Finance Ltd, the forex business owned by the Patels of the Patel Roadways.
Reliance Money, a subsidiary of Reliance Capital, has acquired the stake by buying out the privately held Wall Street Contructions, a promoter entity which owns about 33.5 per cent stake in Wall Street Finance. The Patels own about 65 per cent stake in the publicly held Wall Street Finance. Neither Reliance Money nor Patels of Wall Street Finance could be reached for comment.
In fact, in May, there was an interse transfer between the promoters on BSE wherein 38.37 lakh shares constituting 33.5% of the equity were sold by AS Patel (promoter) to Wall Street Construction Ltd.
The Bombay High Court is expected to approve the merger on September 26, after the completion of the merger, Wall Street Constructions will cease to exist and Reliance Money Express will become the single largest shareholder of Wall Street Finance with 33.5 per cent stake. The Patels will hold the remaining promoter equity which is about 32%.
Since May this year the share price of Wall Street Finance has more than doubled, from Rs 35 in May to reaching a high of Rs 81 this month. At the close of the markets today, the shares were trading at Rs 76, up by 6.5% from the previous close. The Mumbai-based firm has a market capitalisation of only close to Rs 89 crore ($19.6 million). The company reported net profit of Rs 1.3 crore over a topline of Rs 30 crore in FY08.
Reliance Money Express was formed after Reliance acquired Travelmate Services, a part of Kuoni Group, in November 2006. The company is now a wholly owned subsidiary of Reliance Capital. The company has been in the money transfer services (MTS) and full-fledged money changing (FFMC) business in the country since 1993.
Wall Street Finance, set up in 1986, is an authorised dealer Forex-II (which means they can offer foreign remittance as well as money changing services). It is one of the principal agents of Western Union Money Transfer and operates over 3,500 locations for money transfer. The company is registered with RBI as a Non-Banking Finance Company and has over 38 branches spread across India. Wall Street Finance also caters to people going on Haj pilgrimage.
The acquisition will take Reliance Money Express into the same turf as Western Money Union and Thomas Cook's Moneygram.
(The image of the court filing was published in Free Press Journal on September 10)