Indian real estate market in 2015 clearly belonged to global investors with financial services giants and pension funds like Goldman Sachs, GIC, KKR, CPPIB, Warburg Pincus, among a slew of other investors betting big bucks to tap the long-term potential of the fastest growing major economy in the world.
Global investors have turned their focus back on Indian realty market as the economy has taken an upward swing under the Narendra Modi-led NDA government. The surge in flow of foreign direct investment (FDI) across different sectors in the last three-four quarters stands testimony to a turnaround in investors' sentiments.
Investors are back not only with bigger bucks but also with riskier game plans this time around, leading to a fair amount of activity at the entity level. Holding level deals had vanished from the sector as investors turned cautious after burning their fingers in the last bull-run.
Return of entity level deals
Piramal Realty, the real estate arm of Piramal Group, alone raised capital worth Rs 2,800 crore at entity level from private equity major Warburg Pincus and financial service giant Goldman Sachs in a gap of two months. Institutional investors reposed their faith in listed realtors too by picking up stakes – Creador and Goldman Sachs took minority stakes in Ashiana Housing and Temasek picked up a pie of Oberoi Realty. Click hereto read how PE firms are riskier bets in real estate.
Investors also stuck to their tried and tested method of deploying capital in real estate through platform deals this year. The momentum in this space continued with Goldman Sachs inking a $250 million platform with Nitesh Estates for commercial realty. Standard Chartered Private Equity struck two such arrangements with Shapoorji Pallonji and Tata Realty along with other investors.
From a bird's eye view, Singapore's sovereign wealth fund GIC stands out as the king of realty deals in 2015. It took exposure to a variety of assets having picked up majority stake in IT park firm Nirlon, backed a real estate focused NBFC of KKR and sealed a mega equity deal with real estate major DLF for Rs 1990 crore for projects in Central Delhi.
While offshore capital flow surged across realty sub-segments, domestic PE firms found it an uphill task to raise capital from international limited partners. This is also because global investors – be it sovereign, pension or private equity funds – have ramped up their direct collaboration with developers over the years.
ASK Group and Piramal Fund Management, two of the biggest capital providers, has faced challenges with their offshore funds and are yet to see significant capital commitment to flow in. HDFC Realty Fund, which has raised capital only from offshore market, recently postponed its latest offering as it waits for better market sentiments.
Residential and commercial segments
While global investors chased a bigger pie, domestic real estate private equity space was dominated by refinancing through debt/structured debt route. As cash flow remains weak given the sluggish sales volume, developers have gone for multiple rounds of refinancing, replacing higher cost debt with cheaper ones to sail through tough times. NCR, one of the worst affected markets in the current slowdown, has seen an increasing level of refinancing activity of late.
Non-banking financial companies (NBFCs) have also become aggressive in lending heavily to real estate as developers continue to face liquidity crunch.
Shah Junaid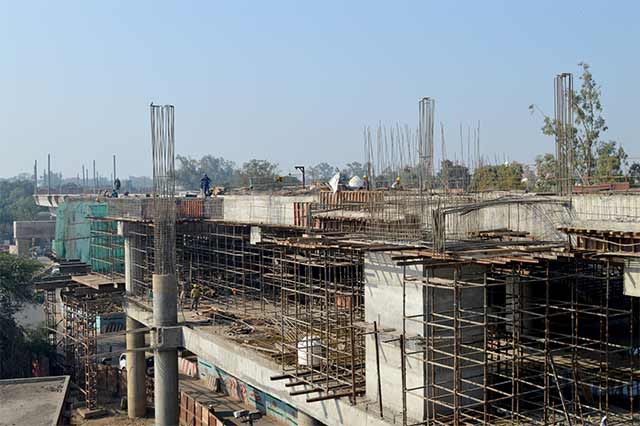 In a scathing report, CRISIL recently said India's top 25 developers are sitting on a debt bomb of Rs 30,000 crore and refinancing is going to be an uphill task as sales remain tepid.
Even though each micro market has a different story to tell, overall sales momentum has remained weak for the housing market in 2015. Liases Foras, which tracks key data for real estate, in its second quarter (Q2FY16) report suggested that sales across top eight cities have picked up 17 per cent on a yearly basis and slipped by 6 per cent on a quarterly basis. Though growth in yearly figure is a positive sign and comes after a long gap, it could be on account of flat sales in the same period last year when the market went from bad to worse.
Unsold stock has remained a pain point for realtors as gap between what is on offer and what end users can afford remains largely unattended. As of September, 2015, inventory rose by 18 per cent and 6 per cent yearly and quarterly, respectively, to 1075.7 million sq ft. In other words, the top markets will take 47 months (almost four years) to get rid of unsold stock at the current pace.
"Year 2015 did not bring the hoped-for growth in residential real estate. However, the silver lining is that the bad days seem to have bottomed out; sales have picked up in a few cities like Mumbai, Hyderabad and Bangalore. Year 2016 may well bring an end to the long and painful journey this sector has had, and signal an upward growth trajectory," real estate consultancy firm JLL said in a note.
During the year, the affordable segment of housing market got the much required push on the back of the 'Housing for All' initiative of the government. Developers have come out with more projects catering to EWS, LIGs and lower end of MIGs either under their existing brand or through a separate entity. PE investors too seemed to be warming up to this segment.
The housing market is expected to be back on track in the next six-12 months as the commercial segment has seen a pick-up in leasing activity. Office realty market had started showing signs of improvement towards the end of 2014 and this year has shown a strong momentum, a sign that bodes well for the sector.
According to JLL, India's office space absorption during 2015 stood at 35 million sq ft – the second-highest level in the country's history after 2011. This was driven on the back of corporates implementing their growth plans.
The take-up was led by IT/ ITeS, e-commerce and startups - an emerging segment of office occupiers - and large consulting firms. Though players in many other sectors like FMCG, BFSI (front office), manufacturing, telecom and pharma did not come into the market, they are expected to be active in the market in 2016 and 2017.
On the rental front, it was seen rising more in secondary business districts (SBDs) and certain peripheral business districts (PBDs) of tier-I cities than in the established central business districts (CBDs).
Policy and reforms
The year has been a mixed bag for real estate when it comes to reforms. While work is underway for Housing for All and the Smart City mission, the government is pushed to the wall on Real Estate Regulatory and Land Acquisition bills for various reasons.
The government, having incorporated all the amendments suggested by a Rajya Sabha appointed committee, was supposed to pass Real Estate Bill, 2015 in the current session of the Parliament but that seems to be a distant dream. The bill is aimed to bring efficiency, transparency and accountability into the real estate sector.
Land Bill has been at the centre of many controversies, though the government has tried ordinance route to push it through. But consensus on this crucial bill is hard to come by.
Much in line with the focus of the government, it further eased FDI norms for real estate. It scrapped the area restriction of floor area of 20,000 square metres in construction development projects and minimum capitalisation of $5 million to be brought in within six months of the commencement of business. Whether this move helps capital flow and exits is something to watch out for. 
Though a lot of noise was created around REITs last year, there has not been any further development on it. The issues concerning tax structure have remained a pain point for investors. "However, 2016 may see some REITs to get launched on the back of reduced interest rates and a rise in rental income from office real estate," JLL said.
Gazing into 2016
The coming year should belong to housing market as green shoots of recovery has started to show. As the economy takes an upward swing and confidence comes back among home buyers following rate cuts and job creation, industry watchers expect buying activity to gather pace.
The commercial market is expected to maintain the momentum as the year has turned out to be one of the best. Retail segment remains a paint point for the market and 2016 is not expected to be any better.
On the investment side, JLL notes that the stage is set for a superlative show next year and 2016 may well bring the kind of investment activities that were seen in 2007.
"The real estate industry is maturing. Until 2014, it was unregulated, fragmented and highly inefficient. Though 2016 will bring in regulation, it will remain fragmented and moderately inefficient. We could see it become a well-regulated, consolidated and moderately efficient industry by around 2020. Growth in the Indian economy will definitely see a favourable reflection in the real estate sector, as well," said Anuj Puri, country head, JLL.
"We expect the firming up of rentals in commercial space to continue, backed by strong demand across key cities. Strong leasing for office space will also lead to job creation in these micro-markets and hence give impetus to residential demand. With lower interest rates and time correction in prices, we expect end user interest to rebound," said Kalyan Chakrabarti, managing director, Rising Straits Capital.