When cross-category classifieds company Quikr announced the acquisition of home services startup Zimmber earlier this month, it marked the Bangalore-based firm's tenth buyout in less than two-and-a-half years.
Data from VCCEdge, the data research arm of VCCircle, suggest the company struck as many as seven deals in 2016 and two in 2015.
Having raised over $350 million from marquee investors such as AB Kinnevik, eBay, Omidyar Network, Tiger Global and Warburg Pincus,​ ​Quikr​ has​, undoubtedly, chosen the inorganic growth path.​
And it is​ not​ an unusual strategy. E-commerce companies like Flipkart and the now-troubled Snapdeal have also shopped for startups to fuel expansion in the past.
What is remarkable about Quikr, however, is that it has scaled up inorganically almost entirely so far.
But, in the process, has it spread itself too thin? For a unicorn (a startup valued at more than a billion dollars) that's still a loss-making machine, like most others in India, will this buying spree cost dear in the long run? We spoke to several industry observers and experts for answers to these questions.
Quikr did not respond to an e-mail questionnaire from VCCircle.
For the financial year ended March 2016, Quikr's losses widened to Rs 534 crore from Rs 446 crore the year before. However, the company was able to rein in its spend to some extent. Total expenses grew 26% during the fiscal to Rs 628.63 crore after more than doubling in each of the previous three years.
Operational revenue for FY16 rose 66% year on year to Rs 41.24 crore while total revenue rose 44% to Rs 94.5 crore, driven by an almost two-fold rise in other income.
Earlier this month, The Economic Times reported that QuikrJobs, formed after the company acquired jobs platform Hiree in 2016, has attained breakeven.
While it is an encouraging sign for the company, experts feel it doesn't guarantee significant profits and additional revenue.
"While this is definitely a positive message, it is really important that the business as a whole starts to make money," says Ankhur Bhisen, senior vice president at retail consulting firm Technopak.
However, Swetabh Pareek, head of transaction advisory services at global research firm Aranca, feels Quikr is also growing the business with a sharp vertical focus. He cites on-demand beauty service AtHomeDiva within QuikrServices, a result of its three acquisitions in the beauty services space.
At the same time, analysts warn that Quikr would do well not to fall into the trap of chasing gross merchandise volumes (GMV), which has been the undoing of many a consumer internet venture.
"Quikr now needs to demonstrate that there is an urgent path to sustaining itself via profits and not equity capital. Simply adding revenues without profitability is not a good strategy," says Anup Jain, founder and managing director of Redback Advisory Services.
Besides, it cannot be discounted that every acquisition comes with its own set of challenges, including tech integration, assimilation of new cultures and potential cannibalisation. "In startups, often founders' exit accompanying a buyout can also destroy the value-proposition," Jain adds.
The questions around profitability notwithstanding, a section of industry experts feels the strategy is sensible given Quikr's business model. An aggregation-based business model is fuelled by volume, service and advertising revenues, and characterised by thin margins.
Bhisen says that for an aggregation-based business model, expansion through acquisitions is a tried-and-tested method. Besides, within the broad e-commerce space, such a model typically works on the premise that there is space only for 2-3 players at the most.
"That's the way it is supposed to be. However, Quikr has managed to branch out. We have seen the same happen in other sectors, including e-tailing and food tech. China, for example, is the biggest consumer-oriented market, but you see only two players, Alibaba and JD.com, pretty much dominating the space," he says.
Mrigank Gutgutia of market research firm RedSeer feels going horizontal is the way to go in online classifieds, a space where the size of network and the range of services is the chief differentiator. It not only means expansion of the services umbrella, but also translates into higher GMV. Hence, acquisitions work for an asset-light business model that's looking to scale up.
"It allows fast entry into a market without having to spend time, money and effort," said Sanchit Vir Gogia, chief analyst at Greyhound Research.
Besides, expansion of the basket means creation of additional consumer touch-points.
"You go to a mom-and-pop store and buy what you need. However, if you step into a supermarket, you end up buying more because you see more. A business like Quikr works on the same principle," says Pareek.
Also, most of Quikr's acquisitions have been all-stock deals, which means it didn't have to part with precious cash.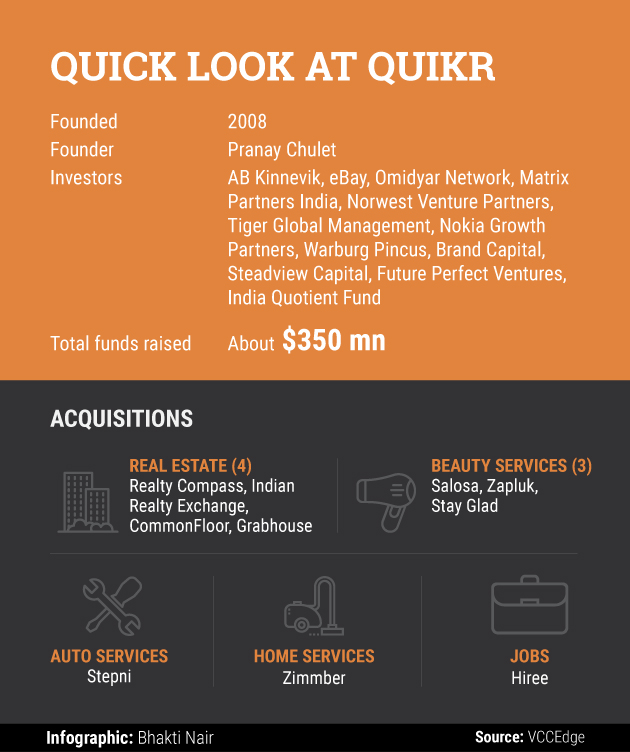 Not all its buyouts are likely to have been driven by business logic though, for Quikr operates in a market where cheques for large equity investments depend on the company's valuation.
"To drive valuations for additional fundraise, sometimes there is tremendous pressure on venture capital-backed firms to build value," says Jain.
Quikr's mammoth fundraise so far makes it imperative for it to grow fast, leaving the company with little choice than to take the acquisition route.
But Gogia feels most investors do not overlook the ground reality anymore. "While investors definitely give a lot of importance to numbers, they are also equally concerned about growth possibility in the long term and the ultimate business model the company wants to have," he says.
Valuations are usually based on preferred stock-financing done by a venture capitalist, which drives the shares to a value higher than their intrinsic value. According to Pareek, Quikr's most recent valuation of $1.47 billion empowers it to acquire comparatively smaller brands to further augment its valuation.
Is Quikr's shopping spree coming to an end anytime soon? Is it time to stop expanding and start consolidating? Analysts feel the company might have expanded just enough, and it is a good time to focus on consumer stickiness and strengthen the fundamentals.
Quikr already has a sizeable presence across segments, including cars, education, homes, jobs and services. Now it should identify segments within the broad basket as well as more niche segments that may be small now but have the potential to become a revenue-spinner, say industry observers.
"Quikr needs to build consumer stickiness where users keep returning to the platform for 5-6 categories that dominate the offline space, and make the consumer use the portal once every months. As a potential merger or acquisition, Quikr could consider a space like matrimonial classifieds, which is an evergreen and profitable business in a country with a predominantly young demographic like India," Jain adds.
Bhisen, however, feels the company might have expanded into most categories considered hot and buzzing.
"Once the customer-to-customer play is exhausted, it is time to grow the market. Quikr should now focus on organic growth in the space of recycling, upselling and cross-selling," he adds.