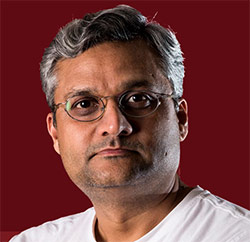 Charcoal Eats, a quick service restaurant chain, has raised Rs 5 crore ($742,000) in its pre-Series A round of funding from a clutch of angel investors, a company statement said.
The Mumbai-based company will use the money to increase its footprint across new geographies as well as consolidate its presence in existing markets. A part of the money will also be used towards brand building activities, the statement added.
The participating investors in this round include Rajesh Ramanathan, head of global growth at Mondelez; Sanjay Bhandarkar, senior advisor at Rothschild India; Amit Gupta, partner at New Quest Capital Partners; and Vishesh Shrivastav, director at Temasek, among others.
"The new investment reiterates our commitment towards building a sustainable and scalable Indian QSR offering consistent quality across the country," said Anurag Mehrotra, chief executive of Charcoal Eats.
Prior to this round, the firm, which is run by CharcoalEats Foodtech Pvt Ltd, raised Rs 7 crore from several angel investors.
Mehrotra along with three others—Krishnakant Thakur, Gautam Singh and Mohammed Bhol—launched the firm in September 2015.
Charcoal Eats claims to be offering all-day food options during snack and meal times at various price points. Customers can dine-in, take-away or order for delivery, as per their convenience. The offerings include a wide array of biryanis, rolls, puff pizzas, beverages and desserts.
The firm currently operates 22 outlets across six cities—Mumbai, Thane, Navi Mumbai, Pune, Delhi-NCR and Nashik. It aims to set up more than 60 similar units across 10 cities by the end of this year.
Charcoal Eats is also available on all leading food platforms such as Zomato, Swiggy, Foodpanda, Dine Out, etc. Corporate executives will soon be able to pay for their Charcoal Eats orders with their Sodexo and Ticket Restaurant cards.
Other deals in the space
Early this month, Yellow Tie Hospitality Management LLP, a food and beverage franchise management company, acquired a controlling stake in three quick-service restaurant brands—Umraan, Wok This Way and Health Juice Centre.
In May 2017, India-focused mid-market private equity firm Lighthouse Advisors India Pvt. Ltd had invested in Wow! Momo Foods Pvt. Ltd, the Kolkata-based chain of quick service restaurants.
In June 2017, VCCircle reported that a clutch of investors from Indian Angel Network (IAN) had walked away with a bountiful harvest from their one-and-half-year-old investment in Wow! Momo Foods.
In 2016, Gurgaon-based Thea Kitchen Pvt. Ltd, which runs the Biryani Blues chain, and BusaGo, a restaurant chain run by celebrity chef Nikhil Chib, raised money.