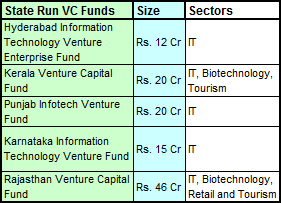 The jury is still out on whether the state government sponsored venture capital funds are as effective as their private sector counterparts.  But Punjab Government is reportedly setting  up a venture capital fund in collaboration with private companies with an intention of providing financial assistance to new ventures in the state. Punjab already has a Rs 20 Cr, IT dedicated Punjab Infotech Venture Fund.
"We are in the process of setting up a venture capital fund in which state as well as private companies will be putting in money to give funds for setting up new projects coming up in the state," Punjab, Principal Secretary, Industry and Commerce, S.S. Channy told reporters.
He further stated that the said fund would be managed by the private companies while adding that the government had sought Expression of Interest from the consultants to suggest ways of making it operational.
There are a number of state governments, including Andhra Pradesh, Kerala, Punjab, Karnataka and Rajasthan, are now actively extending seed capital for new businesses through dedicated venture capital funds, most of which aim at promoting start-ups in new economy sectors such as IT, biotechnology, tourism and retail in their respective states.
The trendsetter in this field is  Gujarat Venture Finance Limited, also regarded as the pioneer of venture capital in India, which raised five funds to the tune of Rs, 136.2  crore and also announced a ten year close ended $22 M SME fund.