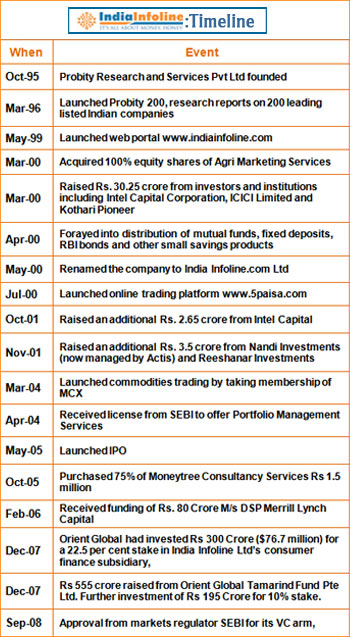 Indian brokerages have traditionally been a group of punters. Small 'pop and bro' shops who advised small retail clients while the few big organisations carried on with the institutional business. However, the whole game went through a facelift about a decade back when entrepreneurs strapped with top-notch education backgrounds from IITs and IIMs entered the field.
One of the most successful within the pack was Nirmal Jain, the founder CEO of India Infoline.
Coming from a family of commodity traders in Rajasthan, trading was in his blood. The IIM-Ahmedabad alumni Jain began his career in 1989 with Hindustan Lever's commodity export business. However, his real brush with financial services started in the mid 90s when he floated a financial research and business information firm Probity Research, what was to become India Infoline.
While this was a steady business, Jain was not satisfied with the scale. This was at a time when Indians were just coming to terms with the power of internet. Jain loaded the research data on to the net and then embraced internet to build scale.
However, this was before the dotcom bust and like everyone he managed to get venture funding. At that point itself he wanted to move from research into e-broking, which was non existent back then besides thinking of media convergence, and at one point even considered having a TV channel. However the dotcom bust coupled with stock market slowdown, showed the other side of business risks. But he survived and the rest is history.
The resurgence in the economy, coupled with the bull run in the stock market and people embracing new age broking, Jain was back in business. Last year India Infoline generated consolidated profits of Rs 160 crore. Jain's equity holding of around 26% is now worth Rs 770 crore, and we are talking about the prices in a bear market.
In the meanwhile his firm has evolved from being a brokerage house to a full-fledged financial services company. Besides broking activities it is also into, investment banking, insurance and mutual fund distribution besides wealth management and credit & finance. It started the consumer finance business last year under the Moneyline brand besides launching two new verticals: institutional equities and I-banking. Now it is getting into asset management and venture capital finance.
He belongs to the same generation of entrepreneurs who brought up peer group firms such as Indiabulls. However while Indiabulls, which was started by a group of IIT graduates, took to a different tangent with much wider diversification drive, having got into retail, real estate besides other activities, India Infoline has remained focused on the financial services business.
On the one hand it has been left far behind in the sweepstakes by Indiabulls which commands much bigger valuation and topline, it has also allowed India Infoline to avert some of the more risky ventures. Jain broadened the business portfolio within the financial services field and derisked the group from market volatility which tends to sink brokerage activities.