When Bessemer Venture Partners and Olympus Capital-backed renewable energy firm Orient Green Power Company Ltd. filed for Rs 900-crore maiden public float, it is perhaps a validation of the growing case for venture funding in the cleantech and clean energy space. 
Olympus Capital Asia Holdings, a mid-market private equity firm which led the $55-million round into the company, is betting big on the cleantech space in India, a market with an unsatiated energy demand.  "About 40-50% of this fund would be invested in India," said Frederick J. Long, Founding Managing Director, Olympus Capital Holdings Asia, which has a $250-million regional environmental fund. That would mean four to five investments in India over the life of the fund.
Long's thesis stems from the fact that countries like India face greater environmental challenge, and that offers attractive investment opportunities in waste management, water treatment, energy efficiency, industrial equipment and renewable energy (such as wind, solar, biomass and hydel power).
"We have a team of two investment professionals in Gurgaon office who are fully focused on generating deal flow in the environmental space," adds Long, who works out of Hong Kong and visits India at least once a month.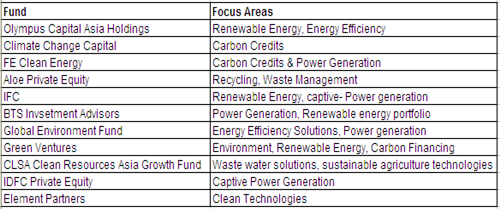 Like Olympus, a host of other specialist or pureplay cleantech funds are also targeting the huge opportunity in the Indian alternative energy space beset with power supply deficit, an increasing need for energy security and rising environmental concerns.
Climate Change Capital Ltd, a UK investment banking group, which raised a $830-fund in one of the world's largest private sector carbon fund to invest into developing economies of India, China and South east Asia, is looking to invest in carbon embedded assets and buy carbon credits in projects. There is an increasing investor interest in clean development projects (CDM) that have the potential to generate carbon credits. The range of investments will vary depending upon the value of "embedded carbon" into the projects. Nakul Zaveri, Senior Investment Officer, Climate Change Capital, who is leading the firm's initiatives in India, points out that 80% of carbon credits accrued to India by end of 2009 have not been sold.  Only 6% of the market has been tapped in India, one of the world's largest carbon markets, he adds.
Another firm eyeing the low-carbon economy is FE Clean Energy Group Inc., a private equity firm focusing on investments in energy efficiency services sector. The firm has invested in Amburitha Private Power Limited, a 22MW hydro power project in Karnataka, which will provide power to Praxair India Ltd and in energy services firm ELPRO. 
Key Drivers
While all these specialised clean energy funds aiming to invest in clean energy solutions are global offshoots, they are targeting India as their key area for investment. "India will see maximum allocations owing to its high growth," Zaveri says. Also, as Chaitanya Kale, Partner, Ernst &Young, says, "this space is hugely policy driven and some of the incentives by the government is encouraging for investors and companies pursuing this as new lines of businesses."
In its annual budget, the government said, it plans to levy tax on the use of coal and use the money to start a national clean energy fund to back renewable energy projects.  Besides, there are wind energy incentives including a provision for 80% accelerated depreciation in the first year, a 10-year tax holiday, income tax waiver on power sold to utilities and favorable tariffs. India offers several subsidies to solar power systems, such as solar lanterns and home lighting systems,  and generation-based incentives  of up to Rs 12/kWh for power plants. For small hydro power projects, there are concessions on customs duty, a 10-year tax holiday and other state-level incentives including sales and electricity tax exemptions and preferential tariffs. 
Rising Domestic Interest
Driven by policy sops and investment appetite for clean energy by institutional investors, the sector has also seen a lot of interest from even domestic generalist PE funds.  BTS Investment Advisors, focussed on small and medium enterprises, is planning to raise a new fund focused on the clean energy. The fund would look at proven business models in areas like wind energy, biomass, hydro power and energy efficiency and is targeting a corpus of about $100-125 million.
IDFC Private Equity is an active investor in this space and the International Finance Corporation (IFC), part of the World Bank, has been chasing investments in renewable energy. In November 2009, IFC committed an equity investment in New Delhi-based Azure Power, marking the corporation's first direct investment in a grid-connected solar power project developer in India followed by a $25-million (Rs 110 crore) commitment in Bhilwara Energy Ltd and a further equity investment of up to $10 million (Rs 45 crore) in Auro Mira Energy Company Private Ltd, a renewable energy-focused company. There is Yes Bank along with Global Environment Fund which is currently raising allocations for a clean energy fund in India. "Given the huge unmet demand supply gap, cleantech is being seen as a separate investment class altogether, added Zaveri.
More Clean Energy Than Cleantech
Energy and allied areas stay at the centre of this investment thesis at this juncture. Some of the immediate investment themes, that investors are chasing, include distributed power captive generation, rural electrification & renewable energy, energy montoring and efficiency and carbon credits. 
But, opportunities like low ticket size investing into technology-based clean solutions are not seeing much traction. There have only been a few investments in the space such as Attero Recycling, which raised venture financing of $6.3 million from DFJ India & NEA Indo US Ventures and Deeya Energy, a clean & green energy storage company, which raised money from Element Partners, BlueRun Ventures, DFJ, Element Partners and New Enterprise Associates.
"In India, when you talk about cleantech, it is hugely energy. But there are enough opportunities in waste management, and recycling. India is the best recycler in the world," said Vivek Tandon, Co- founder , Aloe Private Equity, a a seed investor in Greenko, engaged in clean energy generation through development, acquisition, construction, and operation of hydro and biomass-fired plants. Tandon says, they are looking to make two deals per year in India and investing up to $5 to $25 million and are seeing proposals in LED area, waste management, water, and recycling.
"All investments will need to take into account the impact a company has on the environment. The trend of investing in environmentally aware and sound businesses will become mainstream," he adds.