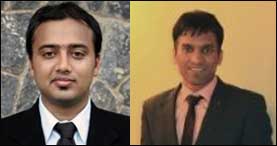 Plabro Networks Pvt Ltd, a mobile-only commercial networking platform for real estate agents, has secured $350,000 (Rs 2.3 crore) in its first round of funding from a group of investors including Flipkart co-founders Sachin Bansal & Binny Bansal (not related), according to a press release.
Early stage investments firms Sol Primero & Outbox Ventures and angel investor Sangram Singh also participated in the funding.
Sol Primero is an early stage investment firm and Delhi-based investment firm Outbox Ventures specialises in seed funding for startups in India. Sangram Singh is an angel investor and the founder of Ultra Drugs Pvt Ltd, a $10 million pharma and technology setup.
The digital startup related to real estate, which operates through a mobile application called Plabro, plans to utilise the funds to create a stronger networking ecosystem and also to augment its reach to all metro cities and major cities across the country within next one year.
"These funds will give a fillip to our plan to grow geographically and strengthen our infrastructure," Plabro Networks' co-founder Pankaj Garg said in the statement.
Incorporated earlier this year, Plabro is co-founded by Garg and Aaditya Jain. Garg did his engineering in computer science from IIT Delhi and has more than 10 years experience of working with data, analytics and search tools. He was most recently with American Express as research manager at Big Data Labs. Prior to that, he worked as technical head at Veveo.
On the other side, Jain did his PGDM in Finance and Marketing from IIM, Kozhikode and previously worked with companies including Tata Consultancy Services, SAIL and Yash Birla Group before founding Plabro.
Plabro app acts as a connectivity platform for real estate brokers, property agents and dealers to connect, network and share information, thereby enabling them to crack deals efficiently and quickly.
Now, the startup is looking to add data analytics as a key feature on the Plabro application to arm the agents with insights into the property market.
This is the third digital venture focused on property brokers to get funding in as many months. In July, Gurgaon-based Oku Tech Pvt Ltd, which operates collaboration platform for brokers BroEx, raised $1 million (Rs 6.4 crore) in seed funding from Lightspeed India.
BroEx is a networking app which helps real estate brokers in finding inventories and requirements with trusted peers in and beyond their network.
At present, BroEx claims its network is leveraged by 25,000 brokers across major cities such as Delhi-NCR, Mumbai, Bangalore, Pune, Ahmedabad and Jaipur.
In the same month, multiple listing online platform for real estate brokers IndiaMLS, run by IndiaMLS Systems Pvt Ltd, received seed funding of $1.09 million (Rs 7 crore) from a group of high net-worth individuals, including Mumbai-based real estate businessman Dhaval Bharot.
IndiaMLS is a platform to help real estate brokers upload property listings to a common network. It is a membership-based software platform aimed at forming an online network of brokers.