CDC Group, the UK government-backed fund of funds with net assets of $4 billion, is probably the most active fund of funds in India. CDC, which primarily backed its emerging markets focused fund Actis, has of late diversified its exposure to a host of other India focused private equity funds. CDC recently announced $250 million investment into two infrastructure and real estate funds in India, and soon after said it would invest $185 million into six PE funds in India (see table).
The group believes that there are more opportunities and more fund managers available to back in the Indian market now than before. CDC Group is particularly bullish about the infrastructure story and will look to explore this sub-asset class further in India.
The fund of funds has even backed many first time fund managers and will not hesitate to look at supporting such funds in future too. VCCircle's Shrija Agrawal talks to Anubha Shrivastava, Portfolio Director, South and South East Asia, on the Indian private equity market and their investment strategy. Prior to CDC, Shrivastava was with Performance Equity Management, LLC and before that with Hambrecht and Quist. Edited excerpts:
CDC has been active in India for quite some time now. How important is the Indian market for you?
We have been investing since 1948. But CDC in the current form as a fund of funds was only established in 2004. We have a mandate to work for sustainable development in emerging economies. We have been very active in India. The country has strong fundamentals as an emerging economy. Even though the economy had some setbacks recently, which is a function of what is happening globally, our long term goals in India are in tact. We continue to invest in Indian PE firms.
What is your exposure to India in terms of investment in private equity funds?
We have over a billion dollars invested today in PE funds in India. And last year, we put anywhere between $200 million and $300 million in the region and I think we have similar expectations this year too.
You announced investments in three funds for infrastructure and real estate. It was in June, and again in a span of less than a month, we heard about CDC investing in six funds. Why this sudden surge of interest in India and what makes India such an important market for you?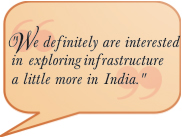 Let me correct that. There is a definite interest there, but not a surge of interest as you describe. India, if you look back, has always been an important player in the region with relationships going back to 1998. We have been there through Actis since then. Outside Actis, we have now added on several relationships including India Value Fund, Baring, ICICI Venture and so on. So in terms of sudden surge, I would probably say that there is a lot more opportunity in the market today, I'd just frame it a little differently. Whereas five years ago, there were a handful of managers that one could have possibly invested in, today there are a number of managers in the market who are credible and experienced, who have a track record, and who can also fulfill at the same time the developmental role. So we have a bigger pool to choose from.
Talking of Actis, What is the kind of money Actis has been able to return to you till now?
That's confidential information, I can't talk about it. But we are happy with the returns. We recently invested in Actis' fund III. We'll evaluate the next offering as and when we get it.
And we also understand that because of the recent turmoil in the public markets or in the global markets, we expect exits and returns to drop in the next couple of years. In the long term - which is what private equity is - we are confident of seeing higher returns.
You diversified your exposure from Actis to other funds like IDFC, BTS, Actis, Avigo, Ventureast and so on? So, what remains next for CDC for India in terms of your exposure to other private equity funds?
I think we remain quite bullish on some of the experienced managers. The other thing to remember is we also fulfill an important role of backing first time managers. So a number of funds that you mentioned were backed by CDC at a time when they were just emerging managers and they were raising their funds for the first time. We have also backed first time managers like New Silk Route or Ambit Pragma. So, we continue to remain loyal to the experienced team who are performing well. And we'll continue to look at quite a few first time funds, and we hope to support and nurture them to the point where they will then go on to be quite attractive to other commercial investors as well.
What did you see in these funds and how do you decide which funds to invest in and in which not to?
We look at the managers, we look at the team, the experience of the team, we look whether the experience of the team is consistent with the strategy they are proposing and which market are they operating in. For the first time, it's a tricky because we don't have a track record of it as a team. Usually, these are experienced investors who are coming together and may have track record that they bring from other places they have worked at. It's mainly driven by the quality of the team and their strategy and how well that fits in with our portfolio.
Which is what?
We try to build portfolio across all sub-asset classes. So, you mentioned a few investments from infrastructure. Obviously, we'd like to invest in every sub-asset class. We have a number of generalist private equity funds and even in them, we try to segment our funds between the different sizes of deals they look at or the size of the fund. So, there are a number of ingredients that go into that thought that we come up with a strategy for CDC.
You just mentioned that you were the first time institutional investors in few funds. So doesn't being first time investors in funds concern you?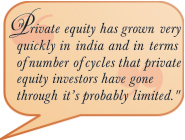 It probably holds true for experienced teams as well, because you know past performance is no indicator of future performance. So, are we nervous? Probably not. Can we predict the future? Probably not as well. Backing first time fund is a part of our mandate and we try to ensure as far as possible that we have done our homework on these funds. And we are, as I said before, backing a credible and experienced team with a credible and consistent strategy. In terms of work that goes into some of these first time funds, it is quite a lot.
We take long periods of time, sometimes well over a year in order to structure funds, and in order to give them feedback. Often they come to us very early in their lives and we actually advise them about how they might go about recruiting their teams or what would make it an attractive proposition for an investor. There is lot of work involved in the legal documentation of these funds.
All I would say is it's a lot of work. But till day, we've been quite happy with the first time managers we have backed. And we hope to continue to do the same going forward.
Can we say that CDC has a certain amount of bias when it comes to investing in infrastructure and real estate in India?
I won't say. I think we have handpicked a couple of real estate players because we think their strategy is slightly differentiated with respect to the rest of the market and we think they will make good commercial return, all the while we are supporting emerging managers. In the case of infrastructure, we just think it's a very compelling story for India. That is not to say that real estate is not compelling in certain pockets. There is  a very compelling story for infrastructure in India and so, we definitely are interested in exploring that sub-asset class a little more. 
So, do we see investments from CDC in other infrastructure focused private equity funds in India?
Yes, definitely in the future, I'm sure if we come across good opportunities, we would back them.
Any legitimate concerns that you have for India now in terms of growth, inflation, or what's happening in real estate market in India?
There is a general macro economic concern, but as I mentioned before that PE is a long term game and we are patient investors. So as long as we have backed credible good teams, put our money to be used in a sensible way, I think we'll come out at the other end looking back at these experiences quite positively.
My only concern about Indian environment today is that private equity has grown very quickly in India and in terms of the number of cycles that PE investors have gone through its probably limited. And a lot of the success has been driven by benign sort of environment people were operating in. The markets were very bullish, and not anticipating some of these negative trends that are now coming to bear in the markets. So my concern would be that people would now overreact at the other end when the market starts to turn a little bit negative.
So in the wake of all this, what is your outlook on Indian investment climate, especially talking about the fund raising scenario which has become difficult?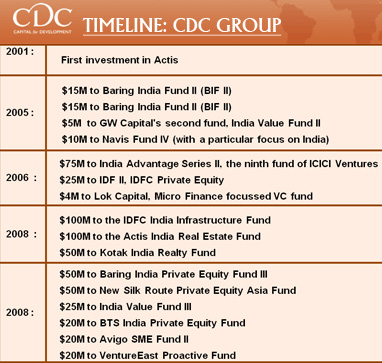 General fund raising environment is going to be difficult. I think that will be true for all funds across the board. They will be of varying degrees of magnitude. It will be little harder for some funds and little easier for others. First time funds will definitely have more of a challenge raising funds now. Some of the investors who might be based in US, Europe etc. may have other portfolios that are not performing that well. So, the bar will be raised a little bit higher in terms of fund raising. But it's all for the good. As I said before, five years back, there were a handful of managers in India. Today there are 450. And obviously not all of them are credible and this will really be the assessment time in terms of who are the managers that can actually attract capital (and who cannot). There will be some changes in the market and some funds may not be successful in fund raising. And its all for the good of the market, because, at the end of the day, there was a lot of capital that was coming in driving up valuations and creating unattractive investing environment. Some of that flock will go away. People and teams who are strong will still continue to attract capital.
Do you think being a specialised niche fund like an infrastructure focused fund or a real estate focused fund really works in favor of PE funds, especially when they go out to raise funds?
I think it does. If you have a franchise that has catered to infrastructure in the past, and that is your speciality and that's where your track record is. The fundamental need for infrastructure has not diminished in India. There is still a strong compelling reason and that's what I advise again. There is a general downturn in the market and PE investors have to get used to such business cycles. And I don't know if that maturity or experience has seeped into PE in India. And so, it is absolutely critical that people who go ahead and raise an infrastructure or a real estate fund have a strategy that works with the current environment.
Any particular sectors that you are bullish about in India. Is cleantech or any other emerging opportunities that you find interesting?
We find infrastructure interesting. There are a number of generalist funds that we continue to look at and we find the environment generally robust. So, I won't say there is one particular sector. It would be interesting to see more clean energy funds. We are looking for opportunities in that space.
In terms of your India strategy, do you work under a particular mandate that you have to allocate a particular amount of money to India or is it just very opportunity driven?
It's definitely opportunity driven. We are not required to invest in any fund. We are driven by deals as we see them in the market. We are looking at both existing funds and new funds. I am sure, we'll have something to tell you soon.
What do you think about funds doing PIPE transactions especially in these markets when the prices of assets are falling?
PIPE transactions can be interesting and one can negotiate this as a deal where you have rights, where you can actually implement changes and private equity can play the traditional role that it is required to. Then PIPE transactions can be quite interesting.
But unfortunately for the most part, PIPE transactions don't work out like that and that's where we run up against a bit of a problem. Although we will hear from our general partners what they have to say on this.
Getting back to Actis, has their strategy of doing buyouts in India really paid off?
We are bullish on Actis. We like the team very much. We are very positive on it. I think Actis (strategy) has paid off very well. You are absolutely right. They were the pioneers for the buy-outs in India. We look at them and ICICI ventures which are both part of our portfolio and we are quite happy. We'd like to see more transactions, in fact, more controlled transactions in their portfolios. Obviously, it depends on environment and again what is credible and what works for Indian entrepreneurs and for Indian GPs. But we are overall happy with this strategy going forward.
This is an oft-repeated question, do you think there are too many funds in India with too few opportunities or there are many funds with enough opportunities?
I think there are probably too many funds today. And opportunities will grow with time to come. Rather, let me take that back, there are probably too many funds who don't necessarily possess the skill and the experience needed to invest in the opportunities in India today.
And what do you think they lack, primarily?
Experience. I think that it is.