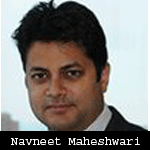 After a stint of five years at the Partners Group, Navneet Maheshwari has joined NASDAQ Dubai. In his new role, Maheshwari will be responsible for identifying and managing the end-to-end listing process in the debt and equity space. This will pertain to companies across Middle East & North Afica and Commonwealth of Independent States that are listed on the exchange.
An Indian School of Business graduate, Maheshwari has worked in various capacities at Partners Group. At the time of leaving the organisation, he was working as an assistant vice president, investment solutions, in Dubai. Prior to this, he was working in Singapore for the company, responsible for its private equity operations.
NASDAQ Dubai Limited (NASDAQ Dubai) is among the few exchanges in the Middle East that trade in multiple products including equities, Global Depository Receipts, Structured products, Exchange Traded Funds, Index and equity Futures, Islamic debts (Sukuks), etc. Total equity trades at the exchange for 2011 were 48 per cent lower at $674 million against $1.31 billion in 2010, reflecting a weak global economic scenario arising from the Arab Spring and Europe's debt crisis. Of this trade, the share of individual investors was 5.8 per cent.
The bourse, which started operations in 2005, was formerly called the Dubai International Financial Exchange (DIFX). It is regulated by the Dubai Financial Services Authority. Borse Dubai holds 33.3 per cent stake and Dubai Financial Market (DFM) 66.6 per cent stake in NASDAQ Dubai. DFM acquired its stake from Borse Dubai and Nasdaq OMX Group in May 2010, just before it took on the exchange's trading and operational functions.
On the other hand, Switzerland-based Partners Group manages Euro 25 billion ($31.75 billion) by means of various private investments in equity, debt, real estate and infrastructure. It has more than 14 international offices across Americas (US and Brazil), Europe (UK, France, Germany, Luxembourg), Middle East (UAE) and Asia-Pacific (China, Korea, Singapore, Japan and Australia).
In India, Partners Group has been an active LP having deployed close to $600 million. The company has been pursuing direct deal flows from India, especially from the education and healthcare sectors. In May 2012, the company appointed Cyrus Driver as its Managing Director. Cyrus has put in over 10 years in the private equity space is expected to strengthen Partner Groups' direct investment activities in India.