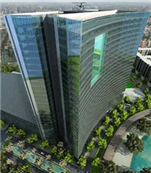 Global technology giant Oracle's India arm is close to snapping up 1 million sqft property in Bangalore's western suburb, Rajaji Nagar (near Malleswaram), for roughly Rs 500 crore. This will probably be the largest office space acquisition in recent years, said  multiple sources familiar with the development.
Oracle has completed due diligence for an outright purchase of Brigade North Star, a single tower that is part of realty player Brigade Group's mixed-use project called Gateway.
"The building is up. It is a warmshell transaction and due diligence is already over. The deal size could be in the Rs 450-500 crore bracket," said a source tracking the development.
This perhaps signals the revival of Bangalore's moribund realty sector and also its much-bruised technology capital status. The transaction, if it goes through, will be among the largest work space deals in terms of area even though some transactions in Mumbai's Bandra Kurla Complex may have surpassed this one in value.
Oracle has been scouting around for a large work space in recent months after its plans for a built-to-suit facility were delayed (read below).
A facility of this size can easily seat over 10,000 employees. It is immediately not clear if Oracle is consolidating its presence in Bangalore under one umbrella or is looking at a fresh headcount addition of 10,000 in the city.
Recently, US giant Cisco too consolidated all its facilities in Bangalore under one roof in the Outer Ring Road area. Typically, multinational companies, unlike their Indian counterparts, prefer leasing out office space. But, a real estate tracker said, increasingly many MNCs are also looking at operating from their own space or built-to-suit facilities.
An e-mail sent to Oracle seeking comments on the development elicited no response at the time of posting the story. Attempts to reach Brigade Group Chairman M R Jaishankar too proved futile. At least three sources, with direct knowledge of the transaction, have confirmed the impending  transaction to VCCircle. Two market trackers have said, "due diligence is on."
Bangalore-based realty major Brigade Group's upcoming mixed-use project Gateway, in which North Star resides, is complete with residential units, commercial complex, luxury hotel and office space. Now, the Oracle centre, once operational, would perhaps be the first IT office space of such magnitude in Bangalore's western suburb, which is essentially a traditional residential and commercial hub.
The centre of gravity of Bangalore's IT districts are largely confined to the southern and eastern parts with north gaining traction thanks to the new airport.
Nearly two years back, Oracle had entered into an agreement with Bangalore based Prestige Estates to develop 1 million sqft on a bulit-to-suit format on Outer Ring Road, closer to Marathahalli. However, this project has been stuck with local regulatory approvals not falling in place.
According to information in Oracle India website, the company is expanding its Bangalore and Hyderabad development centres. The Bangalore facility covers 2.13 lakh sq feet of space. Oracle employs over 21,000 employees in India.
(Pic of Brigade Northstar as an artist's impression. Source: Brigade Group website)