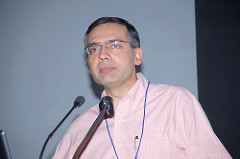 Online travel agents (OTAs) - who have been burned by a zero commission model, besides a declining air travel due to slowdown and terror attacks - may see the commission coming back to their business soon. According to sources, Air India and Indian are also considering restoring commission. Travel agents recently succeeded in getting two airlines to agree to a commission model.
On December 8, Jet Airways and Kingfisher Airlines agreed to pay the agents 3% on the gross fare. This was achieved after the agents stopped selling of the tickets of airlines who stopped paying them commission.
Dhruv Shringi, CEO, Yatra.com, says: "It's a fair move, a reasonable compromise." Agrees Deep Kalra (pictured right), CEO and Founder, MakeMyTrip.com, "I am very happy that it went in our favour."
OTAs - one of the most VC-funded spaces in India -  had hit an airpocket with rules of the game changing mid-air. Travel agents - which make about 5% commission on tickets sold by them - had found themselves helpless as airlines told them to charge a transaction fee from the customer rather than making a commission from the airlines effective from November 1.  
Says CEO of a leading travel agency: "It's a strange timing for them to do it. A 90% of sales of airlines are through agents, and they are bypassing that channel." OTAs would have found their revenues dipping as transaction fee would be a fixed amount as opposed to the commission on ticket prices.
As the new regime kicked in from November 1, it had started affecting the OTA revenues adversely. Stuart Crighton, CEO, Cleartrip.com, explains: "Commissions form an important part of our revenue stream. In the absence of these, our core revenue model remains challenged." Out of total revenues that Yatra.com generated, about 15% were affected by the airlines' decision to pay absolutely no commission to the OTAs.
However, MakeMyTrip's Kalra feels that the zero commission phase was too shortlived to have had any impact on his business. He says: "There was no impact at all because it was very short lived. We continued to charge what we were charging. If zero commission structure would have continued, then there would have been an impact for sure."
While most of the OTAs recorded declines in their revenues, although for a shorter period, some online travel aggregators like Ixigo say the zero commission decision was positive for them. "We have been extremely bullish about this right from the beginning," says Aloke Bajpai, CEO and Founder, Ixigo.com.
Bajpai explains that the airlines' move to stop paying commission to the travel agents had significantly helped his business grow. Since the airlines stopped paying commission to the agents, they allowed a transaction fee that they mandated to be the same across all channels but then they took it off on their own site. "This means that buying a ticket on an airline site directly is the cheapest possible way of buying any airline ticket in India today. So that has positively impacted our business."
Bajpai claims Ixigo.com has seen a 20% increase in its revenues in the last two months, without revealing actual numbers. 
Global Model
Ixigo's Bajpai explains that he had already anticipated airlines' move to eliminate travel agents' commission a year ago. "The premise of building Ixigo was that one day the airlines will stop paying any commissions to the online travel agents." Ditto with Dhruv Shringi, who says, "If you look at what's been happening in the global market, this is a trend that has happened in the global market in the last three-four years. We had anticipated this move about a year and a half back. It was only a matter of time. We were trying to derisk our business by focusing on other products." 
However, Kalra disagrees: "It happened in the US when the level of broadband penetration was much higher... at 30%-40%. In India, the penetration is 4%. The condition needs to be that there is a very high level of internet penetration so airlines can reach the clients directly, since that is not the case it cannot happen. Many things have happened in the US, that doesn't mean that they'll happen out here. It depends on the circumstances and the scenario."
Tackling slowdown
Besides the brunt of zero commission, travel agents also had to fight with a slowdown and the declining air travel. According to Directorate General of Civil Aviation, airline travel has dipped 21% in November this year compared to last year. Besides, the inbound travel has also been hit badly after the terror attacks. Now every airline is tightening their belt to survive the winter.
Yatra.com has not only cut down on their marketing costs but have also slashed their call center costs when they found out that the largest reason why people called the call center was to cancel tickets. They built a module that allowed customers to cancel their tickets online itself.
Cleartrip's Crighton said they have built alternative revenue streams like rail booking, besides insurance, hotel and international air ticketing to beat slowdown. Yatra's Shringi admits that the Yatra business has been adversely affected by the slowdown. "Our inbound business has seen the greatest slowdown at this point than the domestic business," he said.
What came in as a bolt from the blue were the Mumbai terror attacks. According to Deep Kalra, travel business was more adversely affected by the Mumbai terror attacks than it was affected by the slowdown. He says: "The real impact after Bombay (blasts, terror attacks) has been on inbound tours business." He further explains that since the inbound tours business revenues contribute only 2% of the total business, it did not affect the overall MakeMyTrip business.
The situation is no different for Yatra.com as its CEO Shringi too said: "We also have an inbound business and that has been hit more severely on account of the terrorist attacks in Mumbai because that's a high margin business and that's where there is a challenge right now."
Despite a zero commission regime, the slowdown and the Mumbai terror attacks - all in the same year, the OTA industry stands firm and hopeful of a brighter future. "Indian market is fairly resilient and will continue to grow. We'll continue expanding our services into other products," says a hopeful Shringi. MakeMyTrip.com too is looking at a growth of 90-95% this year, while Cleartrip will continue to focus on being a cash flow positive & aim to break-even early next year. Amen to that. 
Timeline: Zero Commission
Jul 20 – Airlines issue a circular that they would be moving to a zero commission model from Nov 1, 08
Nov 1 – Travel agents decide to boycott the airlines that want to stop the commissions (notably Air India, Jet Airways and Kingfisher).
Nov 9 – Airlines and Travel Agents meet and decide to levy a transaction fee for every ticket sold by the travel agent. Rs. 350 for domestic economy class, Rs. 500 for the domestic business class and would vary between Rs. 1,200 and Rs. 10,000 for various classes in the international segment.It is also decided that the airlines would maintain price parity between their own (offices and website) and the travel agency channels. But some airlines like Kingfisher refused to play ball.
Nov 21 – Travel agents meet and ask the airlines to roll-back the transaction fee and move to commission model once again. Airlines oblige but refuse to move back to commissions.
Dec 2 - Travel Agents meet up and decide to stop selling Jet Airways tickets from December 4.
Dec 4 - Travel Agents stop selling Jet Airways tickets. OTAs stop displaying Jet Airways options.
Dec 8 - Jet and Kingfisher agree to pay 3% on basic+fuel surcharges. Air India did not participate.
Dec 9 - Travel Agents resume selling Jet Airways. Kingfisher has also agreed to 3% on basic+fuel surcharge. Air India has indicated willingness to move back to commissions but an official statement on the exact commission structure hasn't come yet. JetLite, just like all LCCs will continue with zero commissions and allow travel agents to add a transaction fee to charge their customers.