Mumbai-based ANI Technologies Pvt Ltd, which runs online cab booking service Ola (formerly Olacabs), has raised $310 million (Rs 1,952 crore) in its fresh round of funding led by Russian investment firm DST Global, according to VCCEdge, the data research platform of VCCircle, based on filings with Registrar of Companies.
The latest deal values Ola at Rs 14,552 crore ($2.3 billion), almost four times its valuation in October when Japan's SoftBank led a $210 million funding round in the company.
DST, which backed India's largest e-com venture Flipkart last year, has brought in Rs 1,153 crore ($185 million) and has picked 7.9 per cent stake, becoming the fourth-largest shareholder in the company behind SoftBank, Tiger Global and Matrix Partners.
The round also saw participation from a bunch of other existing and new investors, including a few who joined in recently with the acquisition of TaxiForSure through a cash-and-stock transaction.
While Ola's single-biggest shareholder SoftBank did not participate in the latest funding, its first institutional backer Tiger Global brought in $40 million to restrict equity dilution.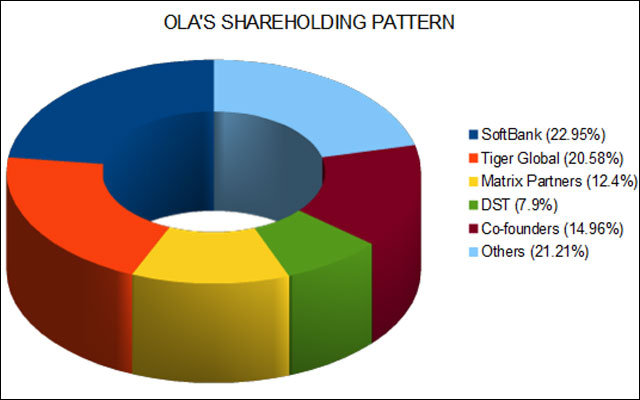 Among other existing investors, Steadview brought in Rs 65 crore ($10.3 million) and ABG Capital invested Rs 29.2 crore. Some other previous investors also participated.
Among TaxiForSure investors who came in recently, Accel Partners was the only firm to put in more in the new round, investing Rs 31.4 crore more and currently holds around 1.77 per cent stake.
Raghunandan G and Aprameya Radhakrishna, co-founders of TaxiForSure, now own 0.84 per cent in Ola, which is worth Rs 122 crore ($20 million).
Check the current shareholding pattern in the chart above. However, this is expected to change.
It is learnt that Ola had offered to issue more shares in the current round to scoop a total of Rs 2,520 crore (over $400 million). It is not clear if SoftBank or any other investor has separately committed to bring in more to cover the issue.
If SoftBank brings in all of the remaining Rs 568 crore ($90 million), as it's expected to, it's holding would go back up to around 26 per cent.
Email queries sent to Ola, DST Global, Tiger Global and other investors didn't elicit any response.
This comes just a month after Ola acquired TaxiForSure for $200 million (Rs 1,240 crore) in a cash-and-stock deal.
Besides Accel, the deal brought in Helion Venture Partners, Bessemer Venture Partners and Blume Ventures as new shareholders in Ola.
SoftBank and Tiger Global had brought in Rs 12.4 crore each last month to pick additional shares as the new shareholders got fresh shares through a share swap.
Founded in January 2011 by IIT Bombay alumni Bhavish Aggarwal and Ankit Bhati, Ola aggregates cab service providers as well as autorickshaws through its platform. Last month it also started location-based online food delivery option -- Ola Cafe. It is a mobile-only feature, and is available on the latest update of the Ola app and in a few select areas at present.
The company claims to have a network of 70,000 cabs and 30,000 autorickshaws, in addition to about 15,000 cabs it got after the acquisition of TaxiForSure.
Meanwhile, Ola's latest funding is the sixth-biggest funding round ever in an Indian internet venture. Three of the top five such rounds were in Flipkart while Snapdeal and Paytm promoter One97 Communications figure as the other firms to raise significant commitment from investors.
Flipkart last year raised $1 billion and $700 million, respectively, in two separate rounds. Snapdeal raised $627 million from SoftBank with some of its existing investors putting in more to take the last funding even to a little over $700 million. Paytm's parent One97 Communications got an investment commitment of around $635 million from Alibaba and SAIF Partners early this year.
Previously Flipkart had raised $360 million in its fifth funding round spread across two tranches in 2013.
Ola has raised a total of $580 million with the latest round. This makes it a strong cash rich venture to take on competitors.
It competes with hybrid cab services provider Meru and US-giant Uber among several smaller players in India.
Meru, which also owns a few cabs besides aggregating taxis owned and run by individual cabbies, recently raised $50 million from its own owner India Value Fund Advisors (IVFA). Private equity firm IVFA, which recently raised an interim close at $500 million for its new PE fund, is on course to raise $700 million in total this summer.
With the acquisition of TaxiForSure, Ola had already created a strong position for itself in terms of cab network and the fresh funding puts it on an even higher pedestal and even look at other businesses. While it has already commenced food delivery to better use its cab network (cabbies turn delivery boys using their cars when it is not in transit with a passenger to pick and drop food orders), The Economic Times, citing sources in the firm, reported earlier in the day that it may use the cabbies to even pick and delivery groceries.
(Edited by Joby Puthuparampil Johnson)