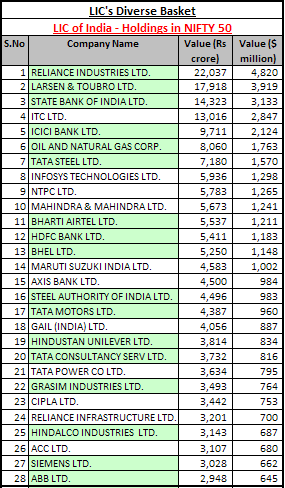 The country's biggest institutional investor Life Insurance Corporation (LIC) increased its exposure in as many as 27 of the 50 stocks that constitute the benchmark index Nifty during the year 2009. It was particularly bullish on sectors such as banking & financial services, capital goods, metals, telecom, cement and oil & gas besides selective pickings in FMCG, auto, power and IT, according to a VCCircle analysis.
What is interesting is that LIC is not betting big on some flavours of the season such as infrastructure including power within the Nifty pack. Even more so, it didn't increase exposure in even a single firm of the pharma sector (there are three in Nifty-- Ranbaxy, Cipla and Sun Pharma) that is considered a defensive sector and should ideally be an obvious favourite for insurance sector investors.
As of January 15, 2010, LIC (either directly or through its various insurance schemes such as LIC Market Plus, LIC Money Plus but not including holdings of LIC Mutual Fund) owned shares of Nifty firms worth $45 billion or a little over 6% of the overall market cap of Nifty which itself has a combined market value of $736 billion.
Although in most Nifty companies LIC holds anywhere in the range of 1%-10%, in some firms such as Larsen & Toubro, Mahindra & Mahindra, ACC and ABB, its stake exceeds to more than 15%. In some other companies like Siemens, it has a significant minority stake (more than 13.5%) that is just short of 15% mark which triggers a mandatory open offer.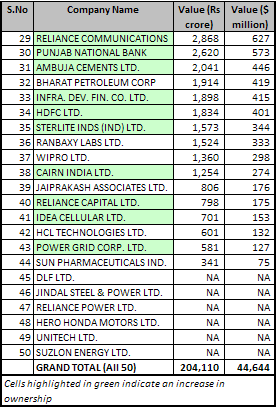 At the same time, LIC has a much lower holding (below 1%) in companies such as DLF, Jindal Steel & Power, Reliance Power, Hero Honda Motors, Unitech, and Suzlon Energy. Notably most of these stocks with the exception of Hero Honda-- considered a fundamentally strong firm and a consistent performer-- are associated with high volatility or considered overvalued.
In more than a dozen firms, LIC holds shares worth over $1 billion including Reliance Industries, L&T, SBI, ITC, ICICI Bank, ONGC, Tata Steel, Infosys, NTPC, M&M, Bharti Airtel, HDFC Bank, BHEL and Maruti Suzuki India.