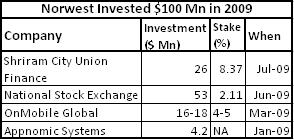 Leading global venture capital firm Norwest Venture Partners has picked up an 8.37% stake in Shriram City Union Finance (SCUF), the consumer finance business of the Chennai-based Shiram Group, for Rs 121 crore via open market. The stake was bought from Indopark Holdings Ltd, a wholly owned subsidiary of Merrill Lynch and  Co, which sold its entire stake of 8.72% for Rs 126 crore on Tuesday. The shares were bought between Rs 315-316 on the National Stock Exchange (NSE), at a discount to the day's closing price of Rs 337.
SCUF has had earlier received private equity investments from a number of PE investors like TPG Capital, ChrysCapital, ICICI Venture, Bessemer Venture Partners and Cambridge Place Investment Management (CPIM). In September last year, Shriram Group sold a 49% stake in Shriram Retail Holdings Ltd, the holding company of of SCUF, to Texas Pacific Group (TPG) for $120 million. Through this deal, TPG indirectly acquired upto 26.7% in SCUF.SCUF offers financing for consumer durables, personal vehicle loans, personal loans, small business loans and retail gold loans.
Merrill Lynch invested Rs 64 crore in SCUF in late 2006 at a price of Rs 160 a share. The firm has managed to make nearly 2x on its investment. CPIM, who also invested with Merrill Lynch at the same price, exited its investment in May 2008 between share price of Rs 380-390.
Merrill Lynch, which was been acquired by Bank of America in Sep '08, also exited its investment in Religare Enterprises last year. Merrill's other PE investments in India are knowledge process outsourcing company Copal Partners, commodity bourse Multi Commodity Exchange and wind electric generator producer Vestas RRB, which are privately held companies. It holds more than a 10% stake in  Resurgere Mines & Minerals Ltd, which got listed last year.
Norwest, which is traditionally a venture capital firm, has shifted its gears in Indian market by making late stage and public investments in the past few months. This will be the fourth India deal by the Silicon Valley headquartered venture capital firm this year, and its third secondary deal. Shriram City Union is the firm's first in financial services space. "The size of the consumer finance market is expected to grow significantly over the next four to five years in India," said Niren Shah, Managing Director of NVP India.
"Even through the downturn, if you look at their balance sheet, they have done pretty well," said Shah in an interview to VCCircle. For FY09, the company reported revenues Rs 923 crore, a little more than 50% increase as compared to last year's Rs 610 crore. Its profit after tax (PAT) was Rs 117 crore for FY09, as compared to Rs 87 crore in FY08. The fund plans to hold on to the investment for the next 3-5 years, Shah said.  SCUF has over 1.5 million customers across the country.
Shriram group founder R. Thyagarajan said that SCUF would look to consolidate its leadership in the current product offerings itself. "We will continue to look at increasing the geographical spread of our operations so that we could serve a larger customer base and also be nearer to them," he said. 
Norwest has invested more than $100 million across four deals in India this year, with a heavy focus on growth and late stage. Its deals this year included Rs 250 crore in NSE, Rs 80-85 crore in value added services firm OnMobile, and Rs 20 crore in infrastructure management services firm Appnomic Systems.
"Right now it makes more sense to look at growth and late stage because markets are permitting us to do things at realistic valuations," added Shah. He says that Norwest is seeing a lot of deal flow and feels that markets have revived somewhat. Norwest invests in sectors like agriculture, retail, infrastructure, manufacturing, education, technology, and consumer driven sectors.