This is like the second coming for internet businesses in India after many succumbed to the dotcom bust in the early part of the decade.  In its next avatar, the e-commerce story has already delivered some happy endings with travel portal Makemytrip's blockbuster Nasdaq debut and many other enterprises ready for a market outing. All the macro elements too seem to be in place for a large-scale growth in internet-based businesses: Favourable demographics, broadband penetration, an anticipated 3G rollout, internet banking, rise in online consumption behavior and so on. The momentum is building up, the growth trajectory has picked up since then and for entrepreneurs it's a great time to build an internet company, investors reckon. Capturing the essence of nearly two dozen speakers from the internet space at the 'VCCircle Ecommerce Investment Forum: Are We At An Inflection Point', we bring 10 key trends that are defining the way the industry is headed. Excerpts:-
It's E-fulfillment more than E-delivery:  Shoppers are hopping back and forth among catalogs, retail stores and internet sites and they expect a seamless transition. While shoppers are discovering the merits of online shopping such as access, price and convenience, it is really the overall consumer experience that will be the big differentiator. Technology for the sake of technology is meaningless, says Mahesh Murthy, Partner, Seedfund and MD, Pinstorm. The key is that the portal should provide  an experience from the virtual world which has to be special, particularly when access to a touch-and-feel store is fairly easy in India. 
Don't Defend & Extend But Expand & Localise the Big Idea: While much of internet businesses in India are more of an import of the business models prevailing in the West, there is a growing attempt now to localise and customise them.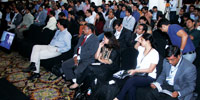 Understanding the end consumer's needs, preferences and their social culture is very important for consumer businesses. It is equally important to expand the idea and achieve scale. "On the challenges front how to expand the business rather than stick to what the company started off with is a problem. India is a complex market and involves numerous cultural factors like caste, religion and so on," explains Murugavel Janakiraman, Founder BharatMatrimony, which has expanded to niche services not only  based on about 20 regional lanuguages in India but also special services for same-sex marriages and elite/personalised matrimonial services.
Electronics, Mobile Phones, Branded products emerge as next e-retail categories:  In line with the growing domestic consumption trend, well-heeled and upwardly mobile Indians may be looking at buying more varieties of products online including electronics, mobile phones and branded products. Also, gifting in India is a huge business where NRIs buying things for resident markets is a huge market. "Selling branded products for an e-com play could be significant," says Binny Bansal of Flipkart, which gained enough traction selling books and is now diversifying into sale of electronics, mobile phones and branded products.
Niche is the new mainstream:  Capital is core to building infrastructure for any e-commerce play. Propositions like within 24-hr delivery costs money, and a large number of companies are not successful because they are undercapitalized. VCs are taking note of such challenges and feel that it is prudent to begin small scale with a niche focus than setting up to just to win the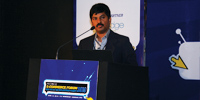 'clonazon.com' battle which is risky. "Competing with the level of capitalization that the funded companies have is going to be difficult. Therefore focus on niches," says Manik Arora of IDG Ventures.
Chasing the mobile commerce story:  All the elements seem to be in place for this story to play out with rising mobile web usage and growth in mobile value added services. But, somehow, mobile commerce has not seen such a boost, feel investors. "A pureplay mobile-commerce story would be interesting," says Arora of IDG Ventures. Arora adds, for m-commerce to really kick off, it will be required to embrace mobile payments and focus on consumer experience. Such trends are already being seen, in 2009,  Visa Inc. partnered with GSMA, a mobile communications industry group representing hundreds of operators worldwide, to develop standards for mobile money management.
Not comfortable online yet: For most of the internet businesses in India, telephone still forms the major part of the support system. A pureplay web-based model has still not achieved the level of comfort with the Indian consumer. "The secret technology to travel e-commerce is the phone. Cash on delivery models work," says Mahesh Murthy of Seed Fund. Echoes Murugavel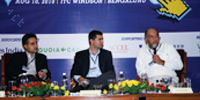 Janakiraman of matrimonial site BharatMatrimony, they have a huge on-the ground sales payment collection team which connects with customers on phones and receives "payments at their doorstep". "Those who need the service, use it, but transact offline. They do not use credit cards," he says.
Value+Convenience+Large Userbase=Adoption: One of the most valuable companies in the ecommerce space in India is CCAvenue, a payment gateway provider for e-commerce portals. The company started off in 2001 with a mandate to encourage e-commerce in India and start providing value to customer. Despite the aversion to online payments, it was essentially the value and convenience that did the trick and led to a large user base adopting it. Vivek Nayak says, business models should look at convenience & value as the key propositions to customers.
Solving An Unsolved Problem & Leveraging Social Media Networks: For bringing cost of customer acquisition down, be an early mover, solve unsolved problems and leverage social networks, says  Sanjeev Bikhchandani, Founder, Infoedge, one of the early internet businesses in India, which owns portals such as Naukri.com and 99 acres.com. In emerging markets, early internet businesses are those which thrive on other established industries like Naukri.com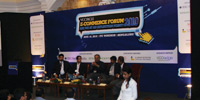 which enabled an already existing jobs market by solving a specific problem of bringing the recruiter and the job seeker at one place on the web. Leveraging social networks could be a good contributing factor, Bikhchandani adds. Mahesh Murthy of Seedfund, however cautions, "It's not the number of fans that you have on facebook that matters but the level of engagements."
Good Infrastructure Can Be A Differentiator: Building a good infrastructure for the e-commerce business is critical.  "Effort on building infra was large," explains Subrata Mitra, Partner, Accel India Partners, which virtually incubated Flipkart. Mitra says, price points in infrastructure differs in US and India, and that it is better to look at a China model than the US.
Execution is key: The E-commerce opportunity is hardly new to India and the business opportunity and challenges were known. But only a few companies could be successful as it turns out that execution is the key. "Naukri succeeded because we put out those 200 sales people in the market. It's a lot about execution. A model does'nt succeed, you got to make it succeed," says Sanjeev Bikhchandani of Naukri. Also, for such businesses, the idea is to profit from growth markets rather than stick to core markets.  Agrees Suvir Sujan, Nexus Venture Partners, "As an entrepreneur, you need to create markets."