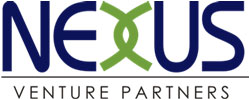 On the back of strong exits, Nexus Ventures Partners has announced the close of its third fund with commitments of $270 million, taking the assets under management of the early-stage venture capital firm to nearly $600 million. The fund, which was raised in "couple of months", has seen the return of all the existing limited partners, according to Nexus co-founder Naren Gupta.
"All of our existing investors came in, which made the fundraising easier. We are pretty fortunate to close the fund in this environment," said Silicon Valley-based Gupta, who set up Nexus with Suvir Sujan and Sandeep Singhal in 2006. Nexus, which also has an office in Mumbai, recently opened another office in Bangalore. The firm also elevated Jishnu Bhattacharjee, based out of its Silicon Valley office, from principal to managing director.
Investors in the fund include endowments, foundations, and financial institutions across North America, Europe and Asia. The fund closed about six months back, said a statement.
Nexus was targeting $250 million for the third fund though it managed to raise $270 million as it wanted to accommodate some of the limited partners. "Our team likes smaller funds as they have flexibility, producing better returns," said Gupta on the fund size.
Nexus Venture Partners was launched in 2006 with a $100 million fund and raised a second $220 million fund in 2008. Nexus, which has completed deploying these funds, now has 45 portfolio companies.
Nexus Venture Partners will continue its focus on early-stage investments across technology, Internet, media, consumer and business services sectors. Besides investing in Indian firms, Nexus has also followed a strategy of investing in US-based companies leveraging the India-US corridor. The venture capital firm has also made over six exits (see table), which has found favour with limited partners.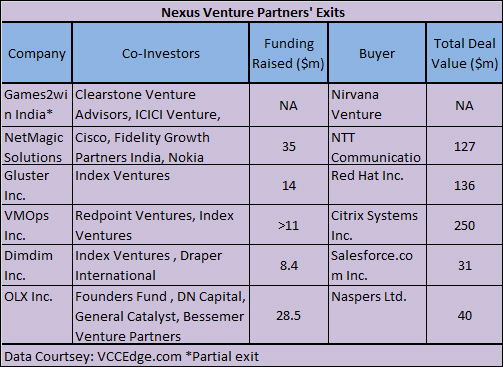 "The first two funds, LPs were going on trust, now they have considered results," said Gupta.
Some of the exits made by Nexus include Cloud.com (cloud provisioning platform acquired by Citrix), Gluster (open source cloud storage, acquired by Red Hat), DimDim (Open Source Web Conferencing acquired by Salesforce.com) and Netmagic (Managed Services and Cloud infrastructure provider, acquired by NTT). It also sold its stake in classifieds player OLX to Naspers and most recently made a partial exit through a secondary stake sale in Games2Win.
Nexus Venture Partners had taken an early call on the Cloud space, which has paid off for the firm. Three of its six exits have come from the space, and it is looking to make more bets on the segment. "In cloud we have just scratched the surface. Right now there is plethora of opportunities in Cloud management storage networking," said Gupta.
In June this year Nexus lead a $2.1 million round in CloudByte Inc, a one-year-old Cloud startup focusing on storage virtualisation.
Nexus has also made several bets on India's e-commerce space like Snapdeal.com, Bigshoebazaar and Craftsvilla.com. Another segment Nexus seems to be betting on is social media related services. In this segment it has bet on firms like Salorix Inc., engaged in providing social media marketing platforms, and Unmetric Inc., a social media benchmarking company.
Gupta also sees an opportunity in consumer services across mobility, as he expects penetration of smart phones to pick up in 2-3 years.
Early-stage funds gaining traction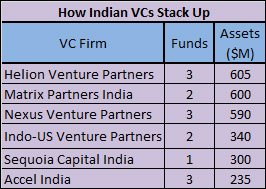 Limited partners (LPs) are increasingly looking at venture firms in India as they seek differentiated exposure to general partners (GPs) in the country and as the early-stage ecosystem matures. These investments are also not impacted much by vagaries of economic cycle and regulation as growth/returns are dependent on innovation. Over the past two-three years, venture capital investments in Indian startups have started showing returns and some firms have also shown the ability to become significant players at a global stage.
Several India-focused venture capital firms have managed to raise new pools of capital over the last few years. Firms like Accel India, Matrix Partners India, Helion Venture Partners and Seedfund have mopped up new vehicles. Several players like IDG Ventures India and Inventus Capital have started fundraising for their second India funds, while Indo-US Venture Partners has already mopped up nearly $150 million for its second fund.
(Edited by Prem Udayabhanu)