ICICI Bank has never been bereft of its women. The bank once celebrated its women power with at least five top executives at its helm including in its subsidiaries. Lalita Gupte was the senior most, followed by Kalpana Morparia, and Chanda Kochhar. The bank's subsidiaries were run by other women executives like Renuka Ramnath at ICICI Venture and Shikha Sharma at ICICI Prudential Life Insurance. All but Kochhar are not in the bank now, and they have been replaced by the next gen women at ICICI.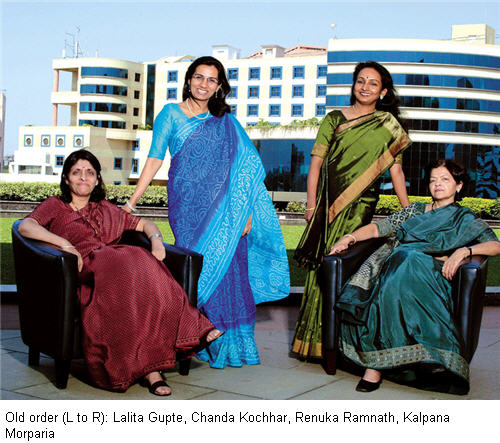 The new crop of women executives that have assumed leadership positions at ICICI are Vishaka Mulye who took over from Renuka Ramnath as MD &CEO of ICICI Venture and Madhabi Puri-Buch who has been promoted as the CEO of ICICI Securities. Kochhar is slated to take over as the MD & CEO of ICICI Bank in May as K V Kamath steps down and moves to non-executive chairman's post. Kochhar, who is currently the Joint Managing Director & Chief Financial Officer of the bank, is the only woman board member in the bank.
While Kochhar is the only one among the original Power Five now remaining in the bank, Mulye and Puri-Buch are the new entrants to the club. Mulye, who had been the CFO of the bank between 2005 and 2007 and later the CEO of ICICI Lombard General Insurance, was not in the top league till now. Her appointment at the helm of India's largest private equity fund (with about $2 billion fund under management) has catapulted her into the new establishment at the ICICI Group.
Although Madhabi Puri-Buch had enjoyed the media limelight before, this would be the first time she is in charge of an independent company.  She became the MD & CEO of ICICI Securities, one of India's largest investment banks, during the recent reshuffle. She was serving as Head of Operations and as Group Corporate Brand Officer of ICICI Bank Ltd prior to that.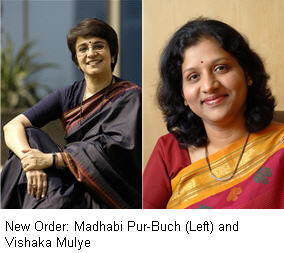 During 2003-04, three out of a total of seven executive directors at the ICICI board were women. Against a mere 4 per cent representation in senior positions in Fortune 500 companies, the women managers of ICICI occupied  about 40 per cent of the corner offices in positions above the assistant general managers in the same year. With five women down to three at ICICI Group, there is space for more women to rise in the group.
Ex-ICICI Women
Among the women who went out, Shikha Sharma has landed probably the most high profile job. She was appointed as MD & CEO of Axis Bank, succeeding PJ Nayak. The appointment was dramatic too with Nayak opposing the move and the rest of the eight board members rooting for her. Sharma has not been in the mainline banking for a while, although she was heading India's largest private sector insurer till now. Sharma is going to enjoy as much spotlight as Kochhar at ICICI Bank.
Lalita Gupte, the senior most among the power women, was the first to move out as she retired in 2006 as a Joint Managing Director. She is not occupying any executive role currently. Last year, Kalpana Morparia quit ICICI Bank as a Joint Managing Director to become the country head of JP Morgan Chase. Morparia's move into an MNC investment bank with little retail interface may not help her occupy as much public mindspace as Kochhar and Sharma.
Ramnath's next step is not known. She is likely to set up a fund of her own or may join a big ticket fund which already has a presence in India. Better still, be the head of a large private equity fund which do not have a presence in India yet. Ideas, anyone?