Traditional mediums like television may still hold sway over digital ad spend in India, but mobile platforms are becoming increasingly popular with advertisers, show latest forecasts by market research firm eMarketer.
Mobile ad spend in India is likely to surge 84% this year to $0.46 billion (Rs 2,992 crore), up from $0.25 billion in 2016. This will propel overall digital ad spend in 2017 to $1.21 billion (Rs 7,870 crore), eMarketer added.
By 2021, mobile ad spend will clock $1.73 billion, almost 62% of India's total digital ad spend of $2.8 billion.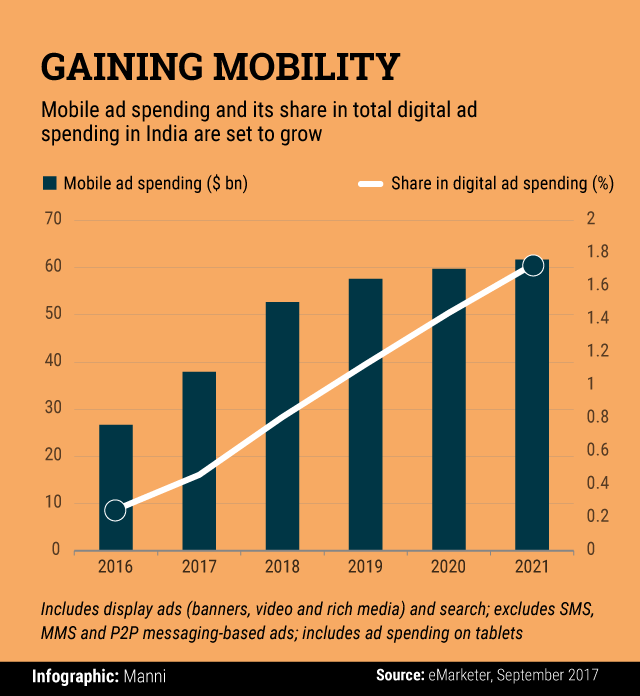 "While TV is currently the most popular advertising medium in India, the growing demand for smartphones coupled with strong social network usage has led advertisers to increase their ad budgets on mobile alongside traditional media options," the report says.
The growth in mobile ad spend is being driven by a boom in smartphone ownership. In 2017, smartphones will make up 36.6% of all mobile phone users, a number that is expected to grow to 47.4% by 2021. Besides, mobile social networking is also gaining popularity in the country. This year, it is expected to reach more than a quarter of all mobile phone users, and three-quarters of all social networking users.
Currently, however, TV accounts for the majority of ad budgets. It will clock $3.13 billion in 2017, almost 40% of the overall media ad spend, eMarketer estimated.
"While TV continues to be the most popular advertising medium, digital is the fastest-growing, with ad spending recording double-digit growth rates up to 2021," said Shelleen Shum, senior forecasting analyst at eMarketer.
"Driven by increasing mobile Internet penetration, falling data prices and the availability of low-cost handsets, mobile will be a major contributor to the growth of digital advertising in the years to come," Shum added.