Microsoft Corp has agreed to acquire LinkedIn Corp for $26.2 billion in a deal that will combine the world's biggest software maker with the largest global online network of professionals.
This is the biggest acquisition by Microsoft ever and is nearly three times as large as the deal to acquire Skype five years ago. This is also the biggest bet that India-born Satya Nadella has made since taking over as Microsoft's CEO two years ago.
This is also the biggest acquisition of an Internet company, trumping social networking giant Facebook's purchase of messaging app WhatsApp in 2014 for about $22 billion.
LinkedIn will retain its distinct brand, culture and independence. Jeff Weiner will remain CEO of LinkedIn, reporting to Nadella, Microsoft said in a statement.
LinkedIn co-founder and chairman Reid Hoffman and CEO Weiner both support this transaction. "Today is a re-founding moment for LinkedIn," said Hoffman. Weiner said the combination of Microsoft's cloud business and LinkedIn's network "gives us a chance to also change the way the world works".
The deal gives Microsoft, which has sharpened its focus on its cloud business in recent years, an entry into the world of enterprise social networking. Nadella said the acquisition will accelerate the growth of LinkedIn, as well as Microsoft Office 365 and Dynamics services.
Dynamics is the Microsoft's customer relationship management (CRM) software package.
The all-cash deal values LinkedIn at $196 a share, including the professional network's net cash, Microsoft said in a statement. Shares of LinkedIn soared 47% on the New York Stock Exchange on Monday to cross $192 apiece after the announcement.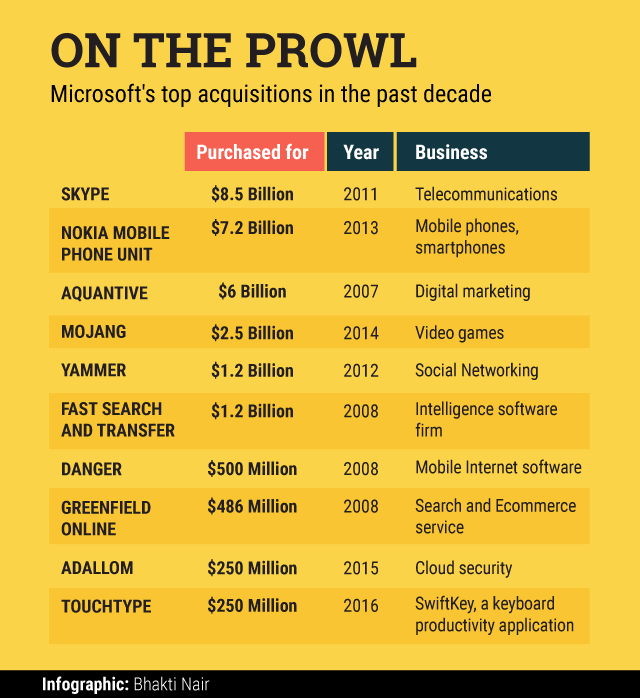 LinkedIn listed on the NYSE in 2011 after floating the biggest initial public offering by an Internet company since Google's share sale in 2004. The company's shares, which doubled on their market debut, had been trading above $200 apiece early this year but came under pressure after February due to concerns of slowing growth.
LinkedIn has about 433 million registered users and has annual revenue of almost $3 billion. Its trailing 12-month earnings before interest, tax, depreciation and amortization (EBITDA) was $842 million as of 31 March 2016. This means the deal price is almost 31 times the trailing 12-month EBITDA of LinkedIn. The deal price would be 26-27 times LinkedIn's EBITDA guidance for FY16.
Microsoft said it will raise fresh debt to pay for the deal. The transaction has been approved by both boards and is likely to close within this year.
Morgan Stanley is the exclusive financial adviser to Microsoft, and Simpson Thacher & Bartlett LLP is the legal adviser. Qatalyst Partners and Allen & Company LLC are financial advisers to LinkedIn, while Wilson Sonsini Goodrich & Rosati, Professional Corporation, is the legal adviser.
Social media, CRM business
Microsoft said it will include LinkedIn into its productivity and business processes segment. "…how people find jobs, build skills, sell, market and get work done and ultimately find success requires a connected professional world. It requires a vibrant network that brings together a professional's information in LinkedIn's public network with the information in Office 365 and Dynamics," Nadella said.
Gartner analyst Vishal Tripathi said the acquisition will help Microsoft mark its presence in social media, which is dominated by Facebook and Google.
He said LinkedIn might not fit directly into Microsoft's strategy but the software giant can take advantage of some of the professional network's offerings.
"LinkedIn has something called 'Selling to Social Networks', which Microsoft would try to use it as an integrated tool along with its existing CRM. In addition, LinkedIn also bought an online video training company Lynda, which Microsoft would probably want to use," he added.
Greyhound Research CEO Sanchit Gogia concurred with Tripathi that the acquisition will help Microsoft boost its CRM business. "Microsoft is working very hard to become an enterprise solutions company. The acquisition will help Microsoft extend its CRM environment and move towards the enterprise solutions fulfillment in terms of getting leads from LinkedIn," he said.
Gogia also said that LinkedIn has solutions for sales and talent acquisition and that Microsoft can now target decision makers other than chief information officers in companies, such as chief marketing officers and chief human resources officers.