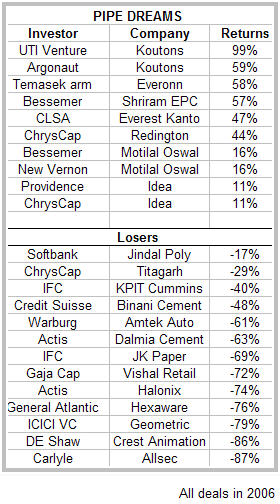 A little more than half of all private investment in public equity deals struck in 2006 -- when the market benchmark index Sensex was at the same level as today -- are trading underwater, according to a VCCircle analysis. This essentially means these investments have underperformed the overall market. The analysis compares corporate valuations three years ago when the market was trading under 12,000 with the current broader market index which is at the same level.
There were close to two dozen PE (we have included deals where the companies went public over the last three years and are as on date listed) transactions in the period between March-August 2006 when the Sensex was hovering around 11,000-12,500 levels as at present. Of the two dozen deals, around half were PIPE while others were pre-IPO. The Sensex has since then shot up almost 75% and dropped by a similar measure in tandem with global market tailspin.
Many of these PE deals would have seen valuation soar during the interim period along with the overall bull sentiment. But have since then crashed to much lower levels.
The Losers:
Among the big time losers are Carlyle (Allsec), DE Shaw (Crest Animation), ICICI Venture (Geometric), General Atlantic (Hexaware), Actis (Halonix-- formerly known as Phoenix), Gaja Cap (Vishal Retail), IFC (JK Paper), Warburg Pincus (Amtek Auto), Actis (Dalmia Cement). All these deals have lost more than half of their value in the market upheaval of the last three years.
In terms of actual quantum of investment -- General Atlantic, Actis and Warburg Pincus have lost(notionally) the maximum given the larger size of money they put in their portfolio companies. Incidentally, all these three were pure PIPE deals where PE firms invested in an already listed company.
Other PE firms who also lost money, though to a lower extent, are Softbank (Jindal Poly), ChrysCap (Titagarh Wagons), IFC (KPIT Cummins), Credit Suisse (Binani Cement). These were a mix of pre IPO and PIPE deals.
IFC, the private sector investment arm of World Bank, and Actis were the two investment firms who figure twice in the list of losers. IFC's investment in KPIT Cummins and JK Paper has lost value while Actis' investment in Halonix and Dalmia Cement is now below par.
The Gainers:
Deals were PE investments are still in the positive zone include Bessemer and New Vernon's investment in Motilal Oswal; ChrysCap's investment in Redington; CLSA-Everest Kanto; Bessemer-Shriram EPC; Temasek (through a subsidiary Indo China Pre IPO Equity Fund) -Everonn; UTI Ventures and Argonaut's investment in Kouton's Retail; Providence and ChrysCap's investment in Idea Cellular.
The biggest transaction in the list was for cellular firm Idea in which Providence($400 million) and ChrysCap ($100 million) put in money during that period (there were other pre IPO investors in Idea whose cost of investment is unclear or they invested much later). These two firms'cost of acquisition is estimated at Rs 56/share as against the current price of Rs 62.
Among the gainers Bessemer and ChrysCap figured more than once due to the gain in value of their investments in Shriram EPC and Motilal Oswal besides Redington and Idea Cellular respectively.
Editor's Note: In the absence of a consolidated data for such transactions, there could be a few minor differences between the actual investment cost from what we have computed. The study does not capture dividend payment received by the PE firms nor does it incorporate returns generated from partial exits over the last two years.