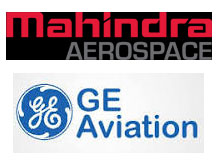 India's Mahindra Aerospace and GE Aviation have signed a pact for co-operation in manufacturing of aerostructures.
A memorandum of understanding has been signed between GE Aviation, Hamble ? the Aerostructures business of GE Aviation, and Mahindra Aerospace at the Farnborough Airshow 2014.
The agreement will enable GE Aviation, Hamble to define possibilities for placing existing work and to collaborate on new opportunities with Mahindra Aerospace, Mahindra group said in a statement.
Commenting on the partnership, Stefanie Darlington, Sourcing Leader for GE Aviation's Aerostructures business said collaboration with Mahindra Aerospace will create additional manufacturing capacity with a strategically important and cost-effective partner, who has already demonstrated its capabilities in metallic aerostructures for a range of aircraft applications.
"It will further expand our international supply chain and help enable GE Aviation, Hamble to meet its growth, delivery and cost goals," Darlington added.
Mahindra Aerospace Executive Director and CEO Arvind Mehra said the company was looking forward to establishing a highly beneficial cooperation with GE Aviation, combining the capabilities of two established companies, each bringing their own expertise to the collaboration.
Mahindra Aerospace, founded in 2007, extended the Mahindra Group's automotive design and manufacturing expertise to the aerospace industry.
It had acquired several companies such as Aerostaff Australia and Gipps Aero which had design and manufacturing experience to strengthen its capabilities in low-cost production.
GE Aviation, Hamble is part of GE Aviation's Structures operation, with its headquarters and primary production facility at Hamble-le-Rice in Southampton, Hampshire, UK.
GE Aviation is a world-leading provider of jet and turboprop engines, components, aerostructures, nacelles and integrated systems for commercial, military, business and general aviation aircraft.