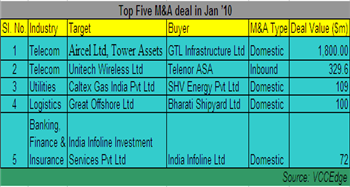 The first month of 2010 has begun on a sound note for investment bankers. The latest data for corporate activity as captured by VCCEdge, the financial research platform of VCCircle, shows that the number of M&A deals in India in January 2010 was the best since January 2008, considered the peak period of deal activity in India till date.
As many as 53 M&A transactions were struck last month, over 50% against an average of 35 deals per month in 2009.
On a sequential basis, January was the fourth straight month to see month-on-month increase in deal volumes.
If we consider the M&A deal types, there has been an all round increase in volumes but the big jump has come about due to local consolidation with domestic deals more than doubling compared to January 2009. It also showed up with four out of the top five M&As last month being domestic transactions.
Interestingly, even though big-budget overseas acquisitions are yet to revive, the number of outbound deals more than doubled in January 2010 over the same month last year.
Comparison of deal value may throw a startling picture as the data gets skewed due to a few large deals, but for the records there was a 126% jump in M&A deal value to $2.8 billion last month led by the $1.8-billion Aircel-GTL Infra transaction.
Telecom, logistics and banking, finance & insurance were the most targeted sectors for investment with deals worth $2.18 billion, $164 million and $117 million respectively. Together, these three sectors accounted for more than 85% of total M&A deal value during the month.
In terms of deal volumes, the most active sectors were banking, finance & insurance with seven deals followed by manufacturing & IT/IT services with six deals each in January 2010. Other sectors contributing significantly to deal volumes were media & entertainment and agriculture accounting for five and four deals respectively.