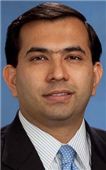 Private equity major KKR has roped in former Goldman Sachs MD Heramb Hajarnavis as its strengthens its India team. Hajarnavis, who was an MD at the Goldman's principal investment unit based out of Mumbai, will join KKR India Advisors Pvt Ltd as a Director. Hajarnavis will work closely with Sanjay Nayar, Member of KKR and CEO of KKR India, to grow KKR's private equity business in India, said the PE firm in a statement.
An MIT grad with an MBA from Harvard Business School to boot, Hajarnavis started his career with Goldman Sachs where he has worked as an investment banker and a private equity investor in New York, Singapore and Hong Kong. He also worked as a member of the senior management team of Centennial Communications, a NASDAQ listed   telecommunications services provider.
"Heramb brings to KKR the global expertise and local experience that we provide to support portfolio companies in India and across the world," said Nayar. "Having worked across North America, South-East Asia and India, Heramb's extensive knowledge of finance and private equity functions will strengthen KKR's operations in India."
KKR has closed two private equity investments in India this year - $75 million in Coffee Day Resorts & Hotels Ltd and $165.59 million infusion in Dalmia Cement's unlisted subsidiary Avnija.