Just Dial Ltd, which runs the India-specific local business listings site Justdial.com, slipped 2.22 per cent at close of market after reaching a new high on Tuesday even as brokerage Nirmal Bang put the firm's target price at Rs 800, giving it a valuation of around $1 billion. The scrip closed at Rs 657.30, down 2.22 per cent, after reaching a new high of Rs 683.
A report by Nirmal Bang said expanding its business and adding new product lines, along with control over employee costs as share of Internet search increases, can improve operating margins significantly in the long run.
"JDL stock trades at 30.6x/21.8x EV/EBITDA (assuming share price of Rs 675) and 48.6x/35.6x PE for FY14E/FY15E, respectively, lower than global peer Yelp Inc which trades at 37.4x/75.8x CY14E EV/EBTIDA and P/E, respectively. The likely strong revenue/PAT CAGRs of 36.1 per cent/43.1 per cent, respectively, healthy free cash flow of Rs 150 crore over FY13E-FY15E and cash/share of Rs 93 should command a premium valuation. We have assigned a buy rating to JDL with a target price of Rs 800, valuing it at FY15E 42.2x/26.5x/7.5x P/E and EV/EBITDA, EV/S, respectively," said the report by Nirmal Bang analysts Jignesh Kamani and Saiprasad Prabhu.
Earlier this month Motilal Oswal Securities came out with a report with target price of Rs 660 per unit, which Just Dial already crossed.
With Tuesday's closing price, the gap in market capitalisations of Just Dial and Info Edge (India), which runs the job portal Naukri.com, widened to over Rs 1,000 crore. Just Dial's closing market capitalisation stood at Rs 4,594.53 crore while Info Edge was valued at Rs 3,540.26 crore. Just Dial's price to earnings (P/E) is over two times compared with that of Info Edge (see table).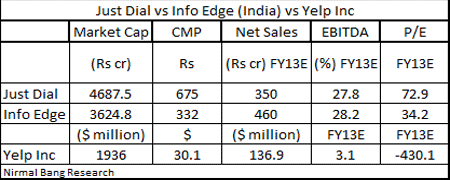 This is despite Info Edge having net profit margins and higher revenues compared with Just Dial. Analysts say this could be due to high future growth potential of Just Dial, compared with relatively mature Info Edge.
Nirmal Bang pegs sales growth of Just Dial between FY13 to FY15 at 36.1 per cent compared with 21.2 per cent for Info Edge. Profit after tax (PAT) estimate for Just Dial is at 43.1 per cent while for Info Edge it is at 31.8 per cent during the same period.
But Just Dial trades at discount to its global peer Yelp Inc, which was listed last year and is backed by likes of Bessemer Venture Partners and Benchmark Capital.
"Following JDL's likely healthy margin of 28.4% in FY15E compared with 15.8% in the case of Yelp for CY14E and a healthy growth rate, JDL deserves a premium multiple," said the Nirmal Bang note.
(Edited by Joby Puthuparampil Johnson)