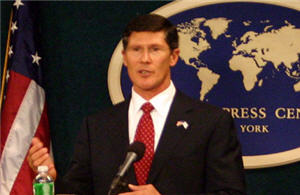 Merrill Lynch chairman and CEO John Thain will be the head of investment banking at Bank of America once the latter completes its acquisition of Merrill in the $50 billion deal it announced last month following the credit crisis in the Wall Street. The appointment also indicates that Thain will be the front runner for the top job at Bank of America when its current CEO Kenneth Lewis retires.
The Charlotte-based banking giant announced on Thursday that Thain will oversee its global banking, securities and wealth management once the acquisition is complete. Lewis also announced that the current head of investment banking at BofA, Brian Moynihan, will take on a key newly created enterprise-wide role once Thain comes on board.
His responsibilities will include what is now in Global Corporate and Investment Banking (GCIB) and most of what is now in Global Wealth and Investment Management (GWIM) at Bank of America which will be merged with similar functions at Merrill Lynch, a release said.
Lewis indicated last week that Thain would stay back at the combined company, however, he had not specified the role. Thain, 53, is well regarded and was earlier the CEO and a director of NYSE which he joined in 2004. Prior to that he was president and chief operating officer of Goldman Sachs Group Inc.
"This is an opportunity to create what will be the leading financial institution in the world. Combining these two companies will create great value for our shareholders and clients around the world," said Thain.
"Our company will look quite different after the merger," Lewis said.