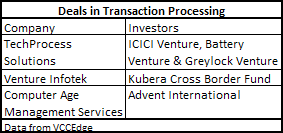 Financial Software & Systems (P) Ltd (FSS), a Chennai-based electronic payments processing firm, has raised $60 million from private equity firms Jacob Ballas Capital India Pvt. Ltd and New Enterprise Associates, Inc. (NEA). The PE firm duo have picked up a 40% stake in the firm, valuing FSS at around $150 million, sources close to the development told VCCircle.
FSS raised its first PE round in 2001, collecting $10 million from The Carlyle Group. The fresh deal with Jacob Ballas and NEA also includes a secondary transaction to buy a 34% stake held by Carlyle. The PE giant seems to be exiting one of its first investments in India pocketing around 4-5x returns.
Srinivas Chidambaram, managing director of Jacob Ballas Capital India, declined to comment on the development. Bala Deshpande, senior managing director with NEA, also did not comment on the deal. VCCircle could not reach the FSS spokesperson for a comment.
Earlier reports suggest that FSS was expecting revenues of Rs 260 crore in FY10. The firm has also entered into the management of systems and processes like ATMs. With a network of 1,600 ATMs, It also provides services like point-of-sales outsourcing, value added payments, and card management services.
FSS was founded in 1991 and is headed by managing director Nagaraj Mylandla. Its key customers include ICICI Bank, HDFC, State Bank of India, Reliance Mutual Funds and Bombay Stock Exchange. FSS competes with international players like Total Systems Services, Visa, KKR-owned First Data Corporation (FDC), and Indian players like Venture Infotek and TechProcess Solutions.
Veda Corporate Advisors was the advisor on the latest transaction.
The transaction processing space has attracted investor interest in the past (see table). Several banks have been looking to hive off their ATM Networks and the transaction processing companies are likely to manage these networks. Earlier this year, FDC signed a deal to deploy 3,000 ATMs. ICICI Bank was also reportedly looking to hive off its ATM business, one of the largest networks in the country.