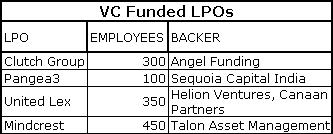 Lay-offs have become a universal phenomenon and yet they remain the most uncommon practice in the LPO (Legal Process Outsourcing) industry. With Unitedlex planning to hire as many as 500 additional employees and Clutch Group (formerly JuriMatrix, the Bangalore-based LPO backed by Jerry Rao) planning to hire at all levels including associate and project manager level lawyers in India, the LPO industry is bucking the slowdown. While every firm is looking at lowering their
costs, it is the LPOs that are turning others' cost-saving to their advantage.
LPOs have also started getting a rush of orders from law firms in the US who are benefiting from a spurt in bankruptcy cases and litigation from companies, shareholders, or government entities. Also large companies are restructuring their legal departments, resulting in more work to LPOs.
According to Abhi Shah, CEO, Clutch group, "The legal departments of every major company serve as cost centres. It is therefore undeniable that there will be a massive overhaul in these departments. LPOs will benefit tremendously from these cost-cutting initiatives, as they
offer a proven solution for reducing costs."
The slowdown is indeed a blessing in disguise for the LPO industry. Agrees Daniel Reed, CEO, Unitedlex, "The recent events have impacted our business in a very positive way. In fact, we could argue that without this kind of market environment, Unitedlex's ability to grow quickly would be less evident. These events have forced companies to rationalise their spending, and they do not have much experience in doing that." That explains the sudden increase in the LPO activities.
Abhi Shah also pointed out that besides cost-cutting, companies worldwide could anticipate a significant growth in litigation from other companies, shareholders, or government entities. This  will further fuel the growth in the LPO space.
Clutch Group expects a 100% growth over last year while Unitedlex expects revenue of $12 million by the end of this year from its current $10 million.
While a group Angel investors have invested in the Clutch Group, Unitedlex has been backed by Canaan Partners and Hellion Ventures.
Rahul Chandra, co-founder and director- investment advisor, Helion ventures says: "We have been in the company since the January of 2007 and we are extremely pleased with the progress of the market. At that time 'what is an LPO?' was itself a question. So it has been a process of discovery on being able to deliver multiple processes with the same level of quality and know-how."
He too feels that LPOs have a bright future: "There is a proof that quality can be delivered. These are not simple processes. And the expectation on the customer's side is extremely high so if you can deliver to their expectations, then you have got something of value."