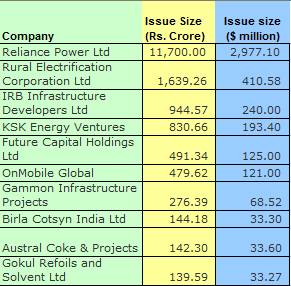 2008 began with a bang and ended with a whimper for the primary market in the country. The IPO market which saw a frenzy early this year for the $ 2.8 billion issue of Reliance Power, was struck harder by the market meltdown than the secondary market.
Reliance Power's IPO, the biggest ever public issue in India raised around Rs 11,700 crore in January this year. The issue saw unprecedented investor interest to the extent that the issue received applications for investments to the tune of $185 billion more than 60 times the amount it planned to raise.
The stock which opened at a premium to the issue price climbed back soon after which even forced Anil Ambani to come up with a bonus issue for the public shareholders to restore investor confidence. But the euphoria of the bonus issue was short-lived and the stock has now lost three fourth of its value in less than a year.
The market sentiment took a major hit after this issue. Not surprisingly then there was just one more IPO worth more than Rs 1,000 crore. This was the power PSU Rural Electrification Corp which raised Rs 1,640 crore. There were four other IPOs which raised more than $100 million from the market: IRB Infrastructure, KSK Energy Ventures, Future Capital Holdings and OnMobile Global.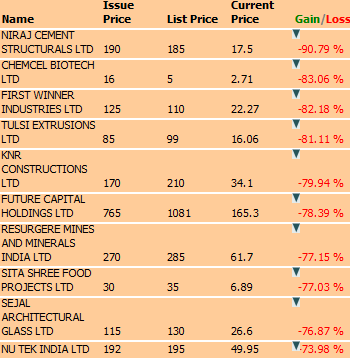 KSK Group raised came up with another large issue overseas besides KSK Energy Ventures. KSK Emerging India Energy Fund raised around $200 million through the Alternative Investment Market (AIM), one of the biggest issues this year at the junior market of London Stock Exchange.
In terms of sectors, power and infrastructure sector accounted for half of the top ten IPOs in India this year. Besides Reliance Power, IRB Infra, REC and KSK Energy Ventures, Gammon Infrastructure also raised a reasonable Rs 276 crore through a public float.
The market went just downhill after September, the month when Lehman Brothers declared bankruptcy which spelled the death of US I-banking industry. August saw the last IPO worth more than Rs 100 crore (Resurgere Mines & Minerals). There have been three issue since August -- 20 Microns, Chemcel Biotech and Alkali Metals raising just around Rs 75 crore ($16 million) cumulatively.
Part of the reason for the poor show in IPOs was the sheer erosion in value for shareholders. The list of issues where investors have lost heavily is led by Niraj Cement Structurals where the stock has lost 90% value to the issue price of Rs 190. Other big losers were Chemcel Biotech, First Winner Industries and Tulsi Extrusions all of them losing more than 80% value. The two prominent IPOs, Reliance Power and Future Capital also lost more than 70% value.