In May 2008, Morgan Stanley Infrastructure Partners (MSIP) announced the closing of a $4 billion fund (exceeding the firm's initial target of $2.5 billion) to invest in infrastructure assets globally. The firm has now opened its office in Mumbai and has moved New York-based Gautam Bhandari to the country to head up the operations of the fund in India, the Middle East and sub-Saharan Africa. Bhandari, who would report to Sadek Wahba, global head of Morgan Stanley Infrastructure in New York, and regionally to John Myers, managing director in Hong Kong, would gradually be building a team in the country.
Most recently, Bhandari was with  the firm's investment banking division where he advised clients globally on M&A and financings in the engineering & construction, industrial services and alternative energy sectors. Bhandari, 38, views India as a major investment opportunity, and also a leader in bringing the private sector into new infrastructure projects. The MSIP fund will look at the entire value chain of infrastructure ranging from a hard core infrastructure play such as transportation, energy & utilities, to telecom and social infrastructure sectors also. MSIP fund would also be making PIPE transactions and would look at co-investing or partnering with other funds in India. VC Circle's Shrija Agrawal speaks to Gautam Bhandari on MSIP's strategies and expansion plans. Excerpts:
What is the India allocation from the $4 billion infrastructure fund? Why is India's infrastructure sector attractive to you?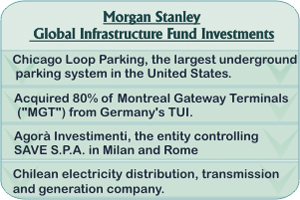 Ours is a global fund. We have no fixed geographic allocations. Within certain parameters, funds will be allocated to the best opportunities. Having said that, India is clearly a key focus of our activity and we see tremendous potential for infrastructure investment in this market.
Demand for infrastructure assets has increased beyond the traditional markets and is now well recognised as a distinct alternative asset class. In India, the industry has strong support from the government to develop new infrastructure projects and this is very positive in our view.
What kind of infrastructure businesses you think would be worthy of putting in money in India?
The fund's initial investments have been outside of Asia. Here in Asia, our activity level and dialogue is quite high and the outlook looks promising. Areas in which we see both global and regional opportunities are transportation, energy & utilities, telecom and social infrastructure sectors. We have yet to invest the majority of our fund and so have ample room for the right opportunities.
Where do you think the Indian infrastructure sector is headed? Where do you see opportunities?
India has become a major investment opportunity, and in many respects, is a leader in bringing the private sector into new infrastructure projects. There are both greenfield assets and companies with existing assets seeking capital. Importantly, India has both management teams with strong local development expertise and significant growth potential which, when combined, makes India quite unique.
What would be your focus areas in infrastructure investing - a pure infrastructure play (ports, bridges, construction) or would you be also looking at infrastructure enabling companies and social infrastructure (education, health, tourism)?
As mentioned earlier, transportation, energy & utilities, telecom and social infrastructure sectors are areas we see opportunities in and our fund also looks at social infrastructure projects as well.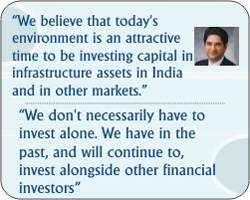 Globally, infrastructure funds are treated more like project financing where people generally focus on how to get money back and are risk averse. What is your strategy?
We are fundamental, i.e., cash flow based investors and we seek assets that exhibit characteristics that associate with the provision of public goods and essential services that are of long useful lives. Clearly assets that operate within regulated environments and insulated from business-cycle fluctuations, and most importantly, assets that have stable and predictable cash flows fall in that category.  However, the fund is not restricted to investing in just projects. We look at operating companies regularly.
We believe that a diversified portfolio made up of assets with these qualities should demonstrate high levels of predictability, both short and long-term future cash flows, and generate attractive risk-adjusted rates of return.
While there are many infrastructure funds already operating in India, how do you think is your entry strategy different?
We have the advantage of being a global fund and therefore we have the ability to analyse opportunities across geographies and invest only in the best opportunities. To achieve this we operate as a global team and identify opportunities across different categories of infrastructure assets. 
We always seek good management teams and developers with strong execution capabilities. We augment that talent with our global access to companies with the required operating track record and capital markets expertise. We believe this can be a win-win situation with the right partner.
We don't necessarily have to invest alone. We have in the past, and will continue to, invest alongside other financial investors as long as our investment and operating philosophies are aligned.
What is the return on investment expected of your investments in India?
Our return expectation is highly dependent on the risks, both company specific as well as market specific risks. These risks vary widely and are highly situation dependent. Therefore, we do not have any specific targets in mind for India.
How big is the investment team in India? Who all are there along with you?
We don't give out details on our teams but my initial team is expected to grow further as opportunities emerge. We have a dedicated team and are recruiting externally as well because we are confident that we will be active in this region for a long time.
Would you be making PIPE transactions especially after the market regulator, SEBI relaxing the QIP pricing norms?
Yes, we will be looking at PIPE investments. For us, as fundamental investors, the reform and relaxation of QIP pricing is important as current market conditions including interest rates, inflation, commodity pricing are part of our valuation process.
If yes, what will be the ratio of the PIPE transactions in your portfolio?
We have no fixed target. It all depends on what opportunities present themselves. We believe in backing strong management teams that can execute. We can then be relatively flexible in how such investments are structured.
How much would you typically invest?
Our investments size varies depending on the opportunity, risk and return. We have the advantage in being able to back the right companies and management teams with sufficient long-term capital.
What is the kind of value do you see yourself bringing in the portfolio companies?
We not only bring our capital to potential situations or to potential partners, but also our global expertise and the team's experience.  For instance, the Fund's existing investments include a container port, airports and an electricity transmission and distribution company, a car parking system etc. We believe this combination of capital and operating expertise can be very valuable.
Would you demand Board representation?
We are active manager and like to add value to companies that we invest in. That said, while in some cases we seek Board representation, it is dependent on the type of investment structure as well as other factors.
What do you think of the investment climate now in India?
We believe that today's environment is an attractive time to be investing capital in infrastructure assets in India and in other markets.
In India, our timing is also consistent with Morgan Stanley's strategy to build a wholly-owned platform in India, which we executed last year. Infrastructure investing, we believe, is a critical component of a full service business as clients look to Morgan Stanley not only for advice but also for capital.